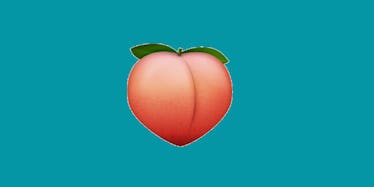 The Peach Emoji No Longer Looks Like A Butt With iOS 10.2 And People Are Pissed
Elite Daily
Apple, we need answers.
WHY THE HELL DOESN'T THE PEACH EMOJI LOOK LIKE AN ASS ANYMORE?
Sorry to break the news to you, but as part of Apple's new iOS 10.2 update, someone redesigned the peach to look like an actual peach. It's basically blasphemy.
It's official: The peach has lost all meaning...
...unless you want to talk about actual peaches.
But people who still have the original peach emoji are using it like it's going out of fashion (it will never go out of fashion).
Some calmed our nerves and reassured us it's still a butt -- just in profile view now.
There are no words.
We will never forget.
We'll give you this one, Apple, but I'm with Rachel -- mess with the eggplant emoji, and I'm officially a Samsung man.
RIP, peach.
From this day onward, we're all going to have to use real peaches, which actually is way funnier. Check it out:
The trend began in Japan, where parents placed peaches over their babies' behinds.
But just like all things Japanese, the trend spread worldwide. Soon enough, we saw supermodel Karlie Kloss jumping on the bandwagon.
Dat ass doe.
Just avoid using the black and white filter -- it looks too realistic.
Yes, the peach may be gone forever, but fear not because Apple giveth and it taketh away.
Apple may have changed our beloved peach, but it rolled out a new sassy "facepalm" emoji.
Here's another sassy piece of expression it's launching: the "IDGAF shrug."
Then it rolled out some serious girl power for the win. We're talking female firefighters, female farmers and female pilots.
Strange it's taken this long, but better late than never.
OK, Apple, you done good -- but you've got a hell of a lot of making up to do for the peach.