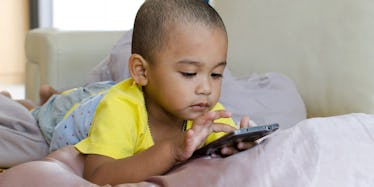 Parents Are Actually Naming Their Babies After These Instagram Filters
Shutterstock
UGHHHH, NO! COME ON, MILLENNIALS! YOU DON'T NEED TO DO THIS! WE CAN'T HAVE A PRESIDENT IN, LIKE, 30 YEARS WHOSE NAME IS HEFE NASHVILLE KENNEDY.
BabyCenter, which isn't a website where you can bulk-purchase children as I just found out, released its list of the top baby names for 2015, and for the most part, the names were pretty typical.
Then, things got disappointing.
Apparently names based off technology and science are on the rise, which would be fine if those names were Einstein or Tesla, but they aren't. No, instead new parents are naming their kids after dumb stuff like Instagram filters.
According to the study, usage of the name Lux jumped 75 percent since 2014, with Ludwig rising 42 percent. On the girls' side, parents are naming their new daughters Valencia and Juno 26 and 30 percent more, respectively, since last year.
Mashable reports, in a release, BabyCenter's Global Editor-In-Chief Linda Murray said this was the first time there was this big of a break for technology-based names.
Oh, but it doesn't stop there. Pop culture seems to be a major name influencer as findings showed the name Royalty jumped 88 percent for girls, presumably because of Lorde's song, while the name Royal gained 36 percent more usage on the boys' side.
Hazel, Hermione, Aysel, Augustus, Thomas and Jonas -- all coming from YA novels -- also saw major boosts on the list this year. Well, are you happy now, John Green?
Breaking gender norms also seems to be a major trend in giving your children lifelong names. Calling your daughters Wyatt and Lincoln were popular choices this year among a large group of adults sticking it to society.
Citations: More parents are naming their kids after Instagram filters (Mashable)