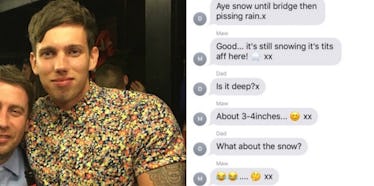 We Can All Relate To Guy's Reaction When Parents Start Sexting In Group Chat
Twitter
I love my parents dearly, but the last thing I want to know about is their sex life.
Call me immature, but you have to admit hearing about your parents' intimacy is a tad awkward. If it was jokingly brought up in a conversation, I'd probably choose not to listen.
NOPE. LA LA LA LA LA. NOT LISTENING.
Don't get me wrong -- I want my parents to be happy. I totally condone a good sex life between a happily married couple, but I'll politely exit from any conversation having to do with it.
Apparently, I'm not the only one who doesn't want to know what goes on behind my parents' bedroom door.
A guy on Twitter named Kyle Henry recently posted a screenshot of a group chat between him and his parents, and by the looks of it, he wanted to leave the chat ASAP.
The Scotland family was enduring Storm Doris while the texts were being sent, and the messages began when Kyle's mom asked him if he got to work and college OK.
But not before long, Kyle's dad took a seemingly innocent conversation and turned it into a rated-R group chat.
Referring to the snow, his mom said,
Good... it's still snowing it's tits aff here!
Kyle's dad then responded,
Is it deep?
(I think you know where this is going.)
OH, NO. PLEASE MAKE IT STOP.
In response to her husband's question, Kyle's mom says, "About 3-4 inches," and his dad's response was explicit AF.
He asked,
What about the snow?
NOPE.
Kyle posted a screenshot to Twitter. Based off his caption, it looks like he wanted to remove himself from the situation as soon as possible (naturally).
As awkward as he must have felt, I'm sure his parents had a good laugh. After all, they're allowed to have some fun, too.
However, I don't think Kyle will ever look at a snowstorm the same way again.
Citations: Parents chat about Storm Doris got a bit embarrassing (Metro)