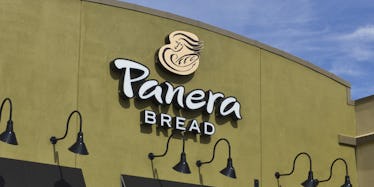 Panera Delivery Is Coming, So You Can Enjoy Your Bread Bowl Hungover In Bed
Shutterstock
Forget about being forced to leave your cozy home just to get your hands on a tasty sandwich or a soup from Panera.
The fast, casual bakery-café chain is officially rolling out their food delivery service, and Panera lovers throughout the country couldn't be happier. Let me just say, if you've never had Panera, you are seriously missing out!
Panera is in the process of a full roll-out of their delivery service, which will be available at hundreds of Panera locations around the United States.
In a recent conference that took place on Wednesday, Panera CEO Ron Shaich stated,
We're in full roll-out mode — this is no longer a test for us.
It sounds like Panera had been testing out their delivery model for quite some time, and it's finally happening now!
MMM, that means bagel delivery.
According to Business Insider, the Panera CEO has communicated the company is working to offer their new delivery service at "35 percent to 40 percent of the chain's roughly 2,000 locations by the end of 2017."
During the conference, Shaich added,
For us, delivery is a mass-market opportunity. It's not because we're smarter [than our competitors] — we're blessed.
Yup, you're damn right. What isn't "blessed" about being able to deliver fresh-made sandwiches, soups and other deliciousness to people's doorsteps?!
So, what exactly does this look like from a financial perspective for hungry consumers like us?
The delivery fee itself is said to be about $3. That's a small price to pay for a Bacon Turkey Bravo sandwich or a fresh order of broccoli cheddar soup.
Oh, and DO NOT forget that side of mac and cheese! It's basically edible gold.
The average delivery order at Panera is said to be $22. For take-out orders, you're looking at a much lower average price of $9.
Of course, there will always be a price to pay for convenience, but I think we can all agree it is totally worth it -- especially when you're hungover, dying and all you need is...
Yes, 2017 is already awesome.
Citations: Panera is rolling out delivery at restaurants across America (Business Insider)