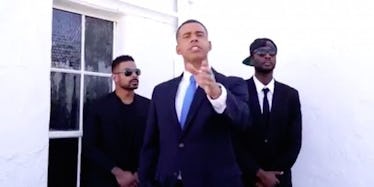 Obama 'Back To Back' Parody Is The Donald Trump Diss Track We Needed (Video)
Actor and sketch comic Iman Crosson, aka Alphacat, slayed a parody of Drake's "Back to Back," rewriting the diss track to be addressed to presidential hopeful Donald Trump.
With a killer Obama impression and plenty of nonchalant IO Hawk gliding, Crosson denounces Trump's penchants for racial bias and, ironically, fake tans while keeping closely in step with Drake's original hook. He sings,
I had two terms, they went back to back. Yeah, they went back to back. They'll ask if I can run again, back to back. Yeah, they want me back to back.
The video gained over six million views on Facebook only five hours after being shared.
Barack Obama - Back To BackBarack Obama - Back To BackCredit: Alphacat Posted by Steven Jo on Monday, October 12, 2015
By the video's end, I was hardly convinced I needed to hear Obama's clipped speech or vocal fry rap for an entire album, but a quick Trump dump track is always welcome.