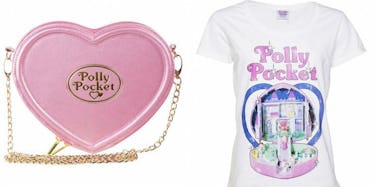 This Nostalgic Polly Pocket Clothing Collection Will Make '90s Kids Freak
If you're obsessed with everything nostalgia and were even more obsessed with Polly Pocket growing up, then stop everything you're doing, because online boutique Truffle Shuffle is releasing a Polly Pocket-themed clothing line. This clothing line makes it socially acceptable to carry your Polly Pocket around as an adult, and 7-year-old me can't contain her joy.
OK, so you're probably freaking out at this point and want to see what this clothing line offers Polly Pocket lovers. You can choose from:
A Heart-Shaped Polly Pocket Purse
But this isn't your average heart-shaped bag. When you open it up, there is an adorable surprise inside.
I mean, what's better than this bag? Well, maybe a...
Polly Pocket T-Shirt
How cute is this T-Shirt? Not to mention, it looks really comfortable. I can totally see myself rocking this tee everywhere.
If you're looking for a piece perfect for working out or for the beach, you might want to pick up...
A Polly Pocket Tank Top
This adorable tank top will definitely set you apart from everyone at the beach, pool, gym, or wherever you decide to wear it.
If you're searching for something that's cute, and perfect for the colder months, you might want to buy...
A Polly Pocket Sweatshirt
Isn't this sweatshirt adorable? I'd wear this even if it wasn't cold.
Aren't the pieces in this line just to die for? If you're excited about these, you're going to love this news: There are more pieces coming soon, which feature the newer Polly Pocket logo. The new line includes,
A Blue Polly Pocket Sweatshirt
A White Polly Pocket Hoodie
A Pink Polly Pocket Camisole
Each piece is cuter than the next. I need all of these items so I can be the envy of my friends.