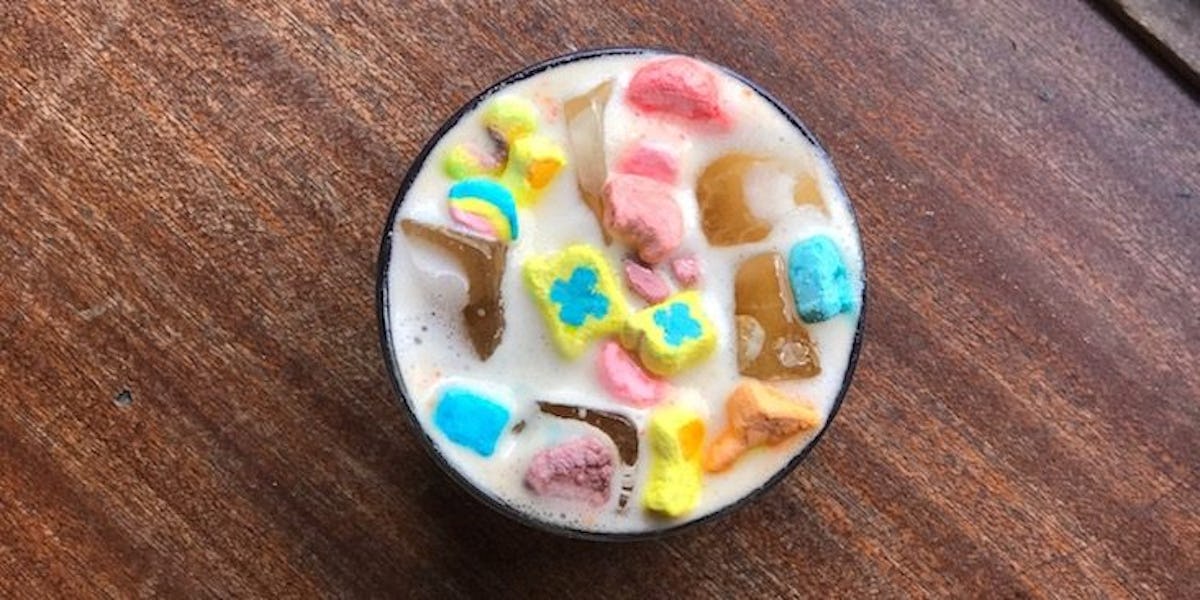 Nostalgic Cocktail Topped With Lucky Charms Marshmallows Is Magically Delicious
Saturday mornings were made for enjoying a bowl (or three) of sugary cereal that never quite filled you up, accompanied by multiple hours of classic cartoons. I was always partial to a Lucky Charms and Hey Arnold! combo. Well, now you can revive your childhood tastebuds because your favorite breakfast staple is about to get boozy. Yep, you're about to learn how to make a Lucky Charms cocktail.
Cody Goldstein of Muddling Memories is the mastermind behind this sip of nostalgia. What he's dubbed as the "Make New Friends" cocktail will require a bit more than a splash of milk, but it will be totally worth it. This adults-only version contains bourbon, vanilla almond milk, creme de cacao, peppermint, and, of course, Lucky Charms. I'd definitely forgo the prize from the cereal box in lieu of a "Make New Friends."
Goldstein was inspired by memories of the school lunch room when he came up with the concoction. He tells Elite Daily,
In elementary school, it was common to trade snacks with other students. The greater booty or treasure you could get was cereal for me. The most commonly traded piece was always chocolate milk as they had an abundance in the cafeteria. I wanted to combine two things I grew up eating. Trading snacks was essential to me in making new friends when I moved towns in 4th grade.
Nothing like a clutch lunchtime trade to inspire your happy hour a decade or so later.
Looks like the cocktail is making friends already.
It seems like the best way to keep your childhood memories alive is to reinvent them with a touch of alcohol. If you're lucky enough to be in New York, head over to The Flying Cock to imbibe in this drinkable rainbow where, as Goldstein says, "You can drink and eat your booze all at once."