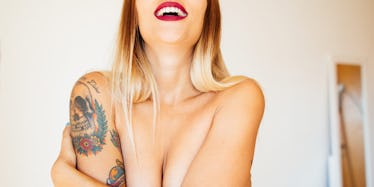 No One Can Tell If These Nipple Pics Are Male Or Female, And That's The Point
Eyes are the windows to the soul.
And as everyone knows, nipples are the eyes of the chest.
So, it seems pretty ridiculous we would censor one type of nipple over the other, doesn't it? After all, we've all got them.
Why is it only OK for men to show off their nip-nops, especially when women's are the ones that actually serve a purpose?
In case you didn't know, if you have female nipples, you aren't allowed to post them on Instagram.
Their Community Guidelines only allow post-mastectomy scarring, nipples in paintings and sculptures or breastfeeding nipples.
ANY OTHER FEMALE NIPPLE IS OBVIOUSLY PORNOGRAPHY.
So, @genderless_nipples started their mission of posting nipples up close. You can't tell which gender they belong to, because both male and females have breast tissue, areola and a nipple.
The only rules to submit are you have to shave (not having hair there will make it harder to tell if it belongs to a man or a woman) and the nipple has to be hard, which also makes it more difficult I guess?
The account, which boasts over 38,000 followers, was created by Evelyne Wyss, Morgan-Lee Wagner and Marco Russo.
Wyss told BuzzFeed,
We are not against following the rules, but we think these should be applied to all genders equally. By uploading a close-up picture, how could Instagram even tell the difference? We want to show them their guidelines won't work in today's society anymore.
They get about 90 submissions per day, which is a lot of nipples.
Wyss continued,
We wanted to spark a conversation and to challenge people's perception of what is sexual and what actually might not be at all.
It is so impossible to tell one nipple from another, Instagram deleted a male nipple off of their account.
Wyss said,
We just had one of our male nipples removed by them, but they can't even tell the difference between male and female nipples, so why even bother banning female nipples if they look so similar? They basically just proved our point.
I studied these nipples more than I have studied my own, and I can't tell which gender they belong to at all.
Citations: This Instagram Account Is Using Nipples To Make A Point About Gender Equality (BuzzFeed)