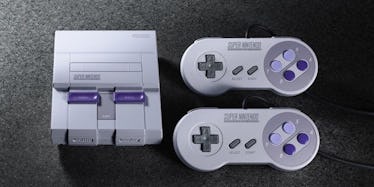 Nintendo Pre-Orders Already Broke The Internet Because People Love Nostalgia
If you're a fan of video games and nostalgia, you've probably heard the news about the Super NES Classic Edition being released this fall. Many had marked their calendars for Sept. 29 — which is the console's official release date — and were shocked when they saw Nintendo pre-orders available on Walmart's website last week.
Nintendo diehards flooded Walmart's site placing their orders and spreading the word about the surprise to other fans. Little did they know, their excitement would soon come to an end... because the SNES being "available for pre-order" was nothing more than a glitch.
To make matters worse, instead of honoring the early orders that came in due to their "glitch," Walmart sent a mass email to many people who placed their SNES orders early and canceled them.
Video game journalist, Chris Kohler, decided to make his maddening email public and tweeted it out for his 28,000 followers to see.
According to Thrillest, the senior director for customer care at Walmart, Deserie Dulaney, emailed all of the early buyers and broke the news. She wrote,
Unfortunately, due to a technical glitch, the Super Nintendo Classic Edition was mistakenly made available last Friday evening ahead of the official release date. We, regrettably, will have to cancel this item on your order. We know that this is incredibly disappointing to you and we're truly sorry for this mistake.
So what is it, a mistake or a glitch? I'm a little confused, but I'm not the only one. People who thought they ordered the SNES early are just as disappointed and bewildered.
"I'm not mad just... disappointed."
"I feel that they are lacking transparency on this issue, as they waited 5 days to address a 'glitch.' I think intent is irrelevant."
What are you hiding Walmart?
"That was the wrong response from Walmart. They should have just owned the mistake and kept the orders."
Agreed!
Let's hope Sept. 29 proves to be a glitch-free day, because I don't think Nintendo fans will take another let down too lightly.