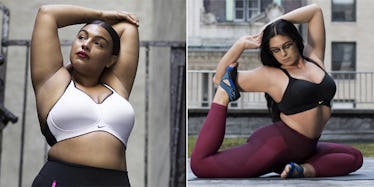 Nike Is Finally Starting To Represent Women Of Different Sizes
If you take a look at the Nike women's page on Instagram, you'll notice a difference in the aesthetic of its recent posts, particularly in comparison to its posts in the past.
On Thursday, the sports apparel company posted this photo of Paloma Elsesser, a model who is signed to Muse Management.
As the Huffington Post's Jamie Feldman noted, the picture represents a shift for Nike, with the brand acknowledging and representing curvy women. HuffPo also points out that, crucially, there is no mention of the model's size in the caption of the photo, which Feldman asserts goes a long way in normalizing images of women of all shapes and sizes.
It now appears, though, Nike's move to feature models like Elsesser was not a one-off. On Saturday, the company's women's Instagram posted this photo of Claire Fountain, a self-described "wellness educator" who preaches a brand of fitness that "is for anybody and ANY body."
Nike is no stranger to enlisting models and influencers, along with its usual roster of athletes, to help represent the brand. Broadening the type of women the company uses in this regard should serve to only broaden its reach.
Citations: Nike Finally Acknowledges That Curvy Women Work Out, Too (Huffington Post)