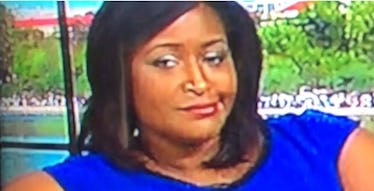 News Anchors' Reactions To The 'World's Most Desirable Face' Are Brutal
Good Day DC
A London plastic surgeon was proud to report he's discovered the "World's Most Desirable Face." And now, Elite Daily is proud to report it's discovered the most hilarious reaction to his discovery.
While Fox's "Good Day DC" morning show discussing the findings of Dr. Julian De Silva, anchors Maureen Umeh and Wisdom Martin gave a priceless reply without even saying a word.
that moment when black people share that "fuck you talkm bout" face #GoodDayDCpic.twitter.com/Xj9sCnvMSm — xii.Sol (@twelveDOTsol) September 1, 2016
De Silva, a cosmetic surgeon from the UK-based Centre for Advanced Facial Cosmetic and Plastic Surgery, gathered a list of the nine most wanted facial features among 1,000 patients who've had plastic surgery at the center, per the New York Post.
In the clip above, "Good Day DC" was focusing on Kate Middleton's nose. But the Duchess of Cambridge had just one feature to contribute to the final animation of the world's "most desirable face," which is a combination of many celebrities' best assets, from J. Lo's eyebrows to Angelina Jolie's cheeks.
Even with that in mind, though, Umeh and Martin were having none of it.
yall gotta listen to the shade tho...."she looks like she has a condition or something" lmfaooooo pic.twitter.com/udRjT717In — xii.Sol (@twelveDOTsol) September 1, 2016
Now, I don't know about "world's most desirable," but I'm not gonna lie to you. This fake chick looks fine. And I have to say that, partly because at first glance, fake chick looks a little Priyanka Chopra-ish, and we all know Chopra is fine. Therefore, fake chick is fine.
But then we have people on Twitter pointing out that the drawing might as well be a photoshopped version of Nina Dobrev, you know, the one from Vampire Diaries.
Clearly, this study is a joke, and the two anchors hilariously saw right through it from the jump.
Citations: New York Post