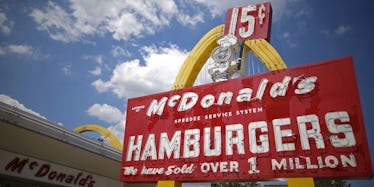 This New McDonald's Is Going To Have All-You-Can-Eat Fries And Table Service
Jim Young/reuters
YOU GET FREE FRIES! AND YOU GET FREE FRIES! AND YOU GET FREE FRIES! EVERYONE GETS FREE FRIES!!!!! ALL HAIL THIS McMECCA!
OK, maybe not technically free fries as you have to pay for the first round, but a Missouri McDonald's is testing out the concept of all-you-can-eat fries, and that's honestly almost better than free fries. Free fries have built-in guilt because you think you're taking advantage of a nice perk. Paying for fries gives you emotional carte blanche to the whole damn store!
The St. Joseph's franchise recently laid out plans to upgrade its establishment, essentially turning it into the Lamborghini of McDonald's locations, complete with a revamped layout, interactive design features, better food and *air horn* ALL-YOU-CAN-EAT FRENCH FRIESSSSSSS.
Owner Chris Habiger, who owns 5 other locations, is sooo committed to the project, he shut down one of his other stores and hired 80 new employees to help him build this McMecca.
Customers will have the ability to customize their desert orders and even request table service.
STEP UP YOUR SH*T, ARBY'S!
Citations: McDonald's of the future: All-you-can-eat fries, kiosks for custom sandwiches (FOX 59)