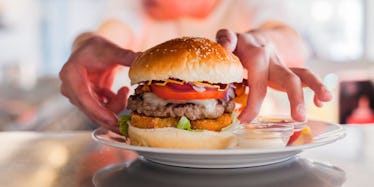 4 Alternatives To Celebrate National Cheeseburger Day The Healthy Way
In my opinion, nothing screams "America" like a good, old-fashioned cheeseburger. If the United States were to ever remake the flag, they would add two things: a bald eagle and a cheeseburger.
You can get a cheeseburger within a half-mile radius of any location in the United States. Even if you are in the middle of the desert or high up in the mountains, a 10-minute walk in any direction would land you at local, hole-in-the-wall dive bar that has a daily "burger and beer" special.
What do we all cook at our Fourth of July barbecues to celebrate the independence of our nation? Cheeseburgers.
What do we all cook on Memorial Day in memory of the people who served our country to protect our freedom? Cheeseburgers.
Cheeseburgers are no joke. They are a symbol of freedom; they are a symbol of independence.
If a TSA agent overheard you talking about how you "don't like cheeseburgers," you would find yourself getting randomly selected for further inspection.
The journey of the cheeseburger has been an interesting one. In the past, the cheeseburger prided itself on how massive and filling it could be. The more patties, the better. The more cheese, the better. The more bacon, the better.
Hell, throw some fried chicken skin in there! Hey, let's use grilled cheese for the buns!
The cheeseburger was just living up to America's long-standing motto of "bigger is better." Big cars, big homes, big people. The cheeseburger was just doing its part to make you feel like you were becoming more of an American with every bite.
But, in the recent years, America has changed. Cars have become smaller. People want to live in small micro-homes. People are becoming more health-conscious and more concerned with the food they are putting into their bodies.
So, as America changed, so did the cheeseburger.
Now, instead of seeing commercials for the "Baconator" or the "Heart Attack" burger, we are seeing commercials for turkey burgers and 100 percent natural beef' burgers. The cheeseburger has adapted to the times.
The cheeseburger is rebranding itself as a healthy food choice.
While many people think the cheeseburger is something they should not eat while trying to lose weight, the truth is, the cheeseburger actually can be a healthy food choice.
In honor of National Cheeseburger Day, these four tips will allow you to enjoy that cheeseburger with one hand, while waving your American flag with the other.
1. Pick The Right Cheese
I know what you're thinking already: "How can I have a proper American cheeseburger without a slice of Kraft American cheese? The cheese is America-flavored!"
I understand where you're coming from. But the type of cheese you use on the burger is the main component that can make or break the healthy meter.
Cheese is a major source of saturated fat and sodium. Ditching the American or cheddar cheese for a lower fat, lower sodium cheese like Swiss or Monterey Jack can help you keep the amount of fat down, and allow you to enjoy a healthier version.
2. What's Your Burger Made Of?
"Wow, that's a great deal on that ground beef!" Take a moment, and look again. Most people are going to pick up the cheapest package of ground beef they see. But, chances are, the cheaper the meat, the higher the fat content.
If you are looking to make a ground beef burger, purchase ground beef that is at least 90/10 or 93/7, meaning it has about 10 or 7 percent fat. It may cost a little more, but it's going to give you a burger lower in fat that you can enjoy.
If you are looking to ditch the ground beef for something different, you can also use ground turkey (or lentils for a vegetarian option). As with the ground beef, purchase either 93/7 or 99/1 ground turkey to keep the fat levels lower.
With the lentils, you can pack them together or buy them pre-packed, for a non-meat, high protein burger (and, yes, they do make vegan cheeses too).
3. Ditch The Buns
I know many of you think bread is evil and watching you while you sleep. So, ditch the buns and try something new.
Many restaurants and fast food places now provide the option to have your cheeseburger wrapped in lettuce. This is a great option for those of you who are gluten-free or looking to lower your carbohydrate intake.
If you're making your own cheeseburger and the lettuce is getting boring, try something new. Using peppers or eggplant is another great, healthy alternative for your burger.
With the pepper, you can simply slice it in half and use each half as a bun. The crunchiness of the raw pepper will provide another texture to your burger.
With the eggplant, you can slice it into relatively thick pieces and roast the pieces in the oven. The roasted eggplant will give another depth of flavor to your burger.
4. Choose Your Toppings Wisely
One of the greatest things about the cheeseburger is the endless array of topping combinations.
You can make a Hawaiian-style burger with pineapple. You can make a Greek-style burger with roasted red peppers and feta cheese. You can make a California-style burger with bacon and avocado.
But be careful. The toppings and additions on your cheeseburger can drop a cheeseburger from healthy to unhealthy in a heartbeat. Adding options like aioli, dressing, mayonnaise or bacon can add large amounts of unwanted fats, sodium and calories.
Instead of bacon, use turkey bacon. Instead of an aioli, opt for mustard. Instead of a scoop of chili, add some roasted vegetables to your burger, which provides some essential vitamins and minerals.
With these options, you can personalize your cheeseburger in a healthy way.
The cheeseburger has learned to adapt to the times and, for now, healthier versions are here to stay. Someday, the cheeseburger may return to its roots of "bigger and fatter is better."
But, until then, grab a head of lettuce and a pack of ground turkey. You can still enjoy National Cheeseburger Day in a healthy way.