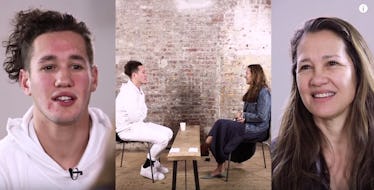 Mother And Son Get Emotional Talking About His Father's Death (Video)
When you're a kid, you don't really understand your parents as other people. As a kid, your parents are larger than life, only existing in your view.
But, as you grow older, you can relate to their struggles more and more. As you age, you can start to see your mother and father more as your peers, and less as your elders.
Martha and Benji, a mother and son duo, illustrate this point perfectly in a new segment for The Skin Deep project, a publishing collective focused on exploring human connection and intimacy in the digital age.
Benji, 23, and mother Martha sit down for a chat about their troubling past, how death has affected their family, what it's like to be a parent and what it's like to be a kid.
The video serves as a good reminder that you may not know your parents as well as you think you do.
Perhaps, it will even inspire you to be more inquisitive in an effort to get to know them better. They are, after all, the people who know you best.
Watch the clip above, and check out The Skin Deep's YouTube page for more.