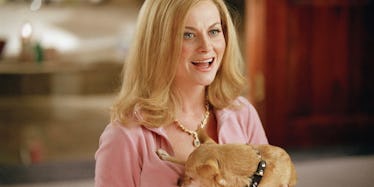 This Mother And Daughter Think They Look Like Sisters But No One Agrees
Paramount Pictures
Guys, this is a rough one. Mother-daughter duo Donna and Mya made an appearance on ITV's "This Morning" because they thought it was uncanny how similar they looked.
Here is a picture of them, though, and I'm going to ask you nicely to, please, take it easy on them.
STOP! IT'S NOT NICE TO MAKE FUN OF BLIND PEOPLE!
Oy. Guys, please stop laughing. It's not nice. It's really not nice.
The only people more oblivious than Donna and Mya are the ones working at ITV, apparently. The station's blog reads,
Not only do they look alike, but they dress alike, hang out together and say they are always getting mistaken for sisters!
Guys, please. Please stop laughing. It's not funny. I know a whole TV station is blind, but please stop laughing.
GUYS! STOP! STOP GANGING UP ON THIS TV STATION ON TWITTER!
THIS ISN'T NICE!
You should be ashamed of yourselves.
Citations: Can you guess which is the mother Erm yes we can (Mashable)