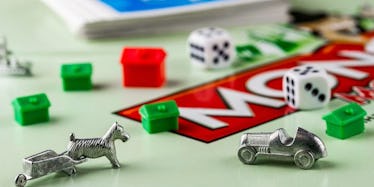 Monopoly Replaced Its Tokens With Animals And It's Tearing The Internet Apart
Shutterstock
Prepare for good ol' nostalgia to rear its bittersweet, sentimental head.
Monopoly has officially gotten rid of some of its most iconic game pieces: the boot, the thimble and the wheelbarrow.
In their place, Hasbro brought in a Tyrannosaurus rex, a penguin and a rubber ducky.
Hasbro announced the winners earlier today, which were considered with a total of 64 other options.
According to E! News, Jonathan Berkowitz, Hasbro's senior vice president of marketing, is sad to see the tokens go, but "it will be fun to have some new, fan-sourced tokens in the mix."
He also said, "Personally, I've always especially liked the boot token, but I'm excited to move onto the T-rex."
The internet, on the other hand, is more than a little upset by the new game pieces.
The nostalgia of the lost Monopoly pieces is a little too much to handle for some.
Once a wheelbarrow, always a wheelbarrow.
I'm definitely #teamthimble too.
I'm not sure parents would really approve of a condom token, Dr. Ruth...
...but I would DEFINITELY prefer them over a *gag* MAGA hat.
With these new game pieces, many can't help but wonder what we'll see in years to come.
This is a fair question, though.
Like, I actually can't remember the last time I even played Monopoly.
Alright, Jesse, slow your roll there, you little cynic.
According to the Los Angeles Times, over 4.3 million voters from 146 different countries weighed in on which tokens they wanted to see in the latest version of the property-acquisition game, which is based off the real-life streets of Atlantic City.
Among the other contenders were a winking emoji, a hashtag, a clunky, '80s-style cellphone and a pair of bunny slippers.
If you're feeling totally unsettled by all this change, take some solace in the fact that the Scottish terrier, battleship, race car, top hat and cat tokens will remain in the game.
If you're excited to try out the new game pieces, the latest version of Monopoly goes on sale in the fall.
Citations: Monopoly Boots the Boot, Thimble and Wheelbarrow in Favor of New Tokens (E!), The three new Monopoly tokens have been announced. Let the fighting over the T. rex begin (Los Angeles Times)