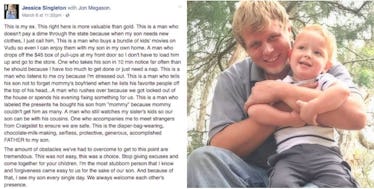 Mom's Refreshing Post On Why She's 'Grateful' For Her Ex Goes Viral
Facebook
As a child of divorced parents, it definitely warms my heart when I see separated couples visibly trying to maintain peace and civility for the sake of their children.
In the midst of conflict, resentment, lost love and all the other awfulness that comes with a divorce, it really can be so easy to forget what's best for the kids.
Thankfully, Jessica Singleton and her ex have not allowed themselves to push aside the importance of mutually sharing and taking care of their son.
In a viral Facebook post — with hundreds of thousands likes and shares — Jessica praises her ex, Jon Megason, for always striving to be an amazing father and team player when it comes to communicating with her one on one.
She wrote,
This is a man who doesn't pay a dime through the state because when my son needs new clothes, I just call him. This is a man who buys a bundle of kids' movies on Vudu so even I can enjoy them with my son in my own home. A man who drops off the $45 box of pull-ups at my front door so I don't have to load him up and go to the store.
I suppose one could argue these are all things a father should do for his son, regardless of the relationship with the child's mother.
However, it's what Jon is both willing and happy to do for Jessica — outside of parenting their son — that is truly amazing.
She continued,
This is a man who listens to me cry because I'm stressed out. This is a man who tells his son not to forget mommy's boyfriend when he lists his favorite people off the top of his head
Not only is he there for her in her times of need, but he doesn't appear to hold any kind of grudge or resentment toward Jessica for dating someone new.
Really, Jessica's message to Jon is quite simple: She's thankful for him.
She finished the post,
In case I haven't told you lately, I'm grateful for you. Most importantly for the motivated individual you are and how you provide Pierson with a phenomenal role model despite the foundation you once had. I love the amount of love my son will always have from you.
Jessica's relationship with her ex really does show that just because two people don't love each other anymore (romantically, at least), it doesn't mean the more important values, like respect and family, fly right out the window.
If anything, those values, in their most fragile of states during a divorce, only become more cherished and more important.
Citations: Jessica Singleton (Facebook)