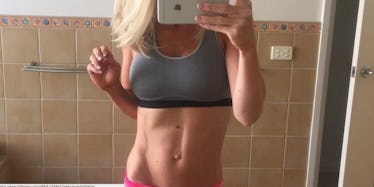 This Mom Just Gave Birth To Twins And She Already Has An Insane Six-Pack
Instagram
I don't understand how Anna Strode pulled this off.
Take a look at a picture of Anna. You take a look? Good. What if I were to tell you she was pregnant just 10 months ago. Pretty crazy, right? What if I were to tell you she wasn't just pregnant, but she was pregnant with twins? Insane, I know, but that's the case!
The 31-year-old mom from Melbourne, Australia and low-key Instagram celebrity just had twins about 10 months ago, and she's already in better shape than literally all of us combined.
So, how does she do it? Short workouts and introspection. Strode dished on this lifestyle mix to Daily Mail, saying,
My 20 minute workouts each day are my 'me' time. At the end of the day when I look back on all the dirty nappies I've changed, hours spent breast-feeding, endless loads of washing and folding and constant housework, I can remind myself that I still did something for me, and that feels really good.
Who am I kidding, I bet her kids are already in better shape than most of us.
Citations: Mother reveals her super-toned six-pack - eight months after giving birth to TWINS (Daily Mail)