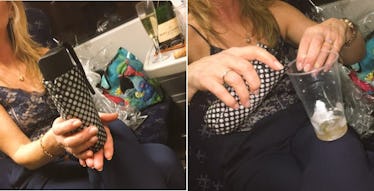 Mom's Genius Hidden Flask On Family Night Is Your New Go-To For Sneaking Wine
Twitter
My mom is definitely fun to drink with, but she's never been great at keeping her booze low-key in public.
Case in point: We went to Atlantic City together for my 22nd birthday, and we brought our own beer with us for the hotel room. However, my mom didn't want to spend money on overpriced drinks at the club we were going to, so she tried to bring her glass bottle of Bud Light into the venue.
I won't go into the hairy details, but let's just say they (obviously) did not let her in with the beer, and I ended up partying without her for the rest of the night.
Hayleigh Quinn, 19, on the other hand, has the most genius mom ever when it comes to drinking in public.
Quinn, who's from Glasgow, and her mother were boarding a train for a family night out, when her mom whipped out what appeared to be an umbrella to protect against the wrath of Storm Doris.
However, a closer look revealed THERE IS ALCOHOL INSIDE THE UMBRELLA, AND THE UMBRELLA IS ACTUALLY A FLASK.
Genius.
Quinn tweeted out the pictures of her mom displaying this total game-changer, saying:
FKN HOWLING oot wi ma maw n she's brought her umbrella which is actually a hip flask in disguise
Her tweet has since received over 1,200 retweets and 7,500 likes.
Twitter users were quick to ask where Quinn's mom acquired such a lovely contraption, and the answer appears to be Amazon.
Ugh, bless that website.
Most people can agree this invention is truly life-changing.
It would definitely make the happiest place on earth even happier.
I guess in case there's no open bar already?
You better believe I have already ordered one for myself and one for my mom. Never again will a rainy day be sad thanks to this bad boy.
Citations: That's one way to survive Storm Doris! Mother reveals how to get through the weather with a smile - by pulling out a hipflask disguised as an UMBRELLA (Daily Mail)