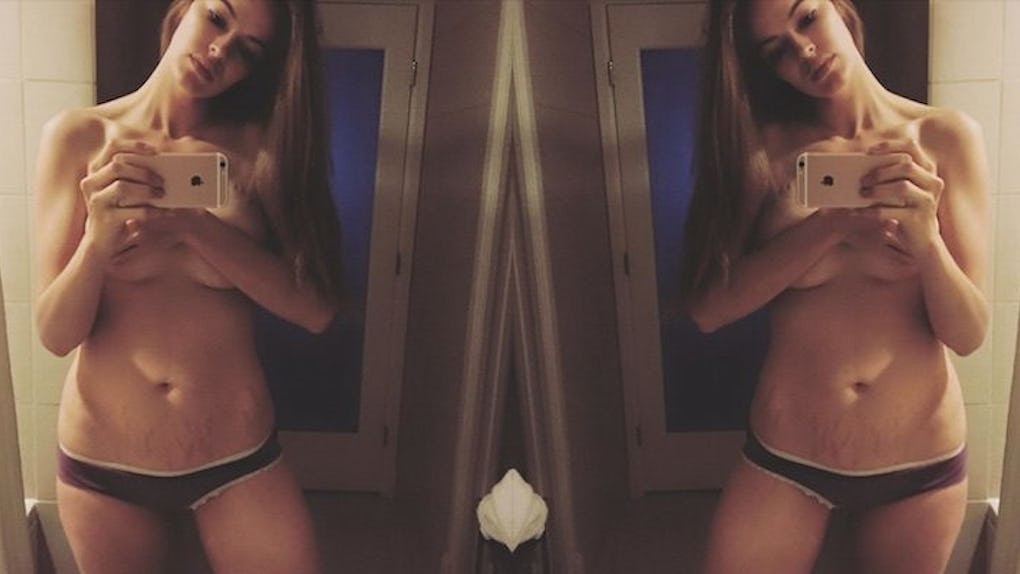 Facebook
Model Shows Off Her Stretch Marks In Powerful Post Encouraging Self-Love (Photo)
Last year, seven months into Robyn Lawley's pregnancy, she read an article in a UK gossip publication claiming she considered a late-term abortion to avoid pesky stretch marks.
Now a mother, Lawley posted a photo to Facebook of the stretch marks she earned carrying her daughter.
Almost a year ago, an interview from a very honest maybe too honest conversation with a friend was manipulated and taken... Posted by Robyn Lawley on Thursday, October 22, 2015
In the post, the model referred to the marks as "badass #tigerstripes" and said "f*ck [you]" to body critics everywhere -- predominantly to the writers of the gossip page where an unfounded nugget of hearsay led to an avalanche of bullying for Lawley.
She recalled,
The comments that ensued were derogatory to say the least… I think until [the article] was pulled it had over 500 or more very abusive comments with no help from the original publication or my friend… I personally tweeted the author of the gossip website to 'have a heart' as it was causing a huge amount of stress to me and I was worried about my unborn baby's health.
Rather than let the memory of this experience fade with her stretch marks, Lawley decided to share her story and celebrate the physical markings of motherhood.
She declared,
As for my stretch marks… I thought I might capture them... To anyone who feels bad about your body, especially after a baby, you are a warrior, you created a life inside of you. [That's] no easy feat.
Lawley also addressed abortion, claiming although she did not consider it for her pregnancy, as the rumor mill suggested, she does not denounce the practice.
She wrote,
I will always be pro choice. No one likes to get [an] abortion, but if [you're] not prepared [there] should be no judgement [with] getting one. Women's rights should not be used [like gimmicks] and spoken about so poorly… It's 2015. [We] have to urgently make women feel empowered by their bodies and minds. We should not be taking their rights and choices away. I love my daughter, I also love my human rights.
While it's a shame women must go to extreme lengths to defend themselves as mothers and human beings, Lawley's choice to share a personal piece of herself is a powerful reminder of the strength and resilience of every woman.
Citations: Robyn Lawley Flaunts 'Badass Tiger Stripe' Stretch Marks After Claim She Considered Abortion (Huffington Post)