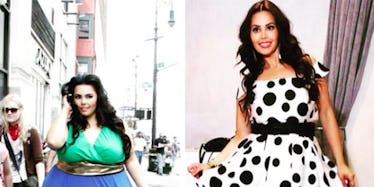 Model Sheds 200 Pounds After She's Told She's Too Big For A Plane Seat (Photos)
Instagram
Model Rosie Mercado is undeniably beautiful, but back in 2011, she wasn't getting the work she wanted from agencies.
In an interview with the New York Post, she recalled,
[Modeling agencies] would contact me after seeing pictures of my face and upper body, neither of which were big, yet were shocked at my 65-inch hips… It was disheartening.
Her frustration reached a breaking point in June of the same year when, at 410 pounds, Mercado was told by a flight attendant she would need to purchase two seats for her red-eye trip from Las Vegas to New York.
Embarrassing as the experience was, the 5'9" beauty had become accustomed to skipping trips to the movies and avoiding booths at restaurants. She even hired a nanny to take her children, now aged 8, 9 and 15, on rides at Disneyland.
The former makeup artist's relationship with food was a key issue as she often turned to it for comfort in trying times.
She told PEOPLE,
I hit rock bottom about eight years ago, and started gaining a lot of weight. My son was diagnosed with mild cerebral palsy, my marriage fell apart. Everything that could possibly happen happened.
Realizing after the flight incident she did not want to continue being held back by her size, Mercado committed herself to training consistently and eating consciously, and over the course of two years, she lost roughly 200 pounds.
Originally a size 34, Mercado now stands at a size 16 to 18, thanks to boot camp, running, yoga, boxing and an old-fashioned diet of veggies and protein.
She explained,
It just really comes down to eating habits. I do have my cheat meal once a week, but everything other than that meal is high protein, low carb and dairy free. I eat lots of vegetables and drink lots of water.
Living an active life became the norm for Mercado, who can now ride a bike and run alongside her children.
She gushed,
Just being able to enjoy the outdoors with my kids, that's phenomenal. I can go hiking, I can ride a bike.
Post-transformation, the mother of three signed with Manhattan agency True Model Management in 2014 and was named the face of IGIGI's holiday campaign.
Mercado shared,
I was told that I'd never get a campaign. That was huge.
The model created her own second chance at a dream life and is confident she's on the right path.
She said,
I feel so confident because of my quality life. I'm exactly where I'm meant to be.
Citations: Plus-Size Model Rosie Mercado Lost 210 Lbs. After Being Told She Wouldn't Fit in a Plane Seat, Changing Her Career and Her Life (PEOPLE), How one plus-size model lost 200 pounds (New York Post)