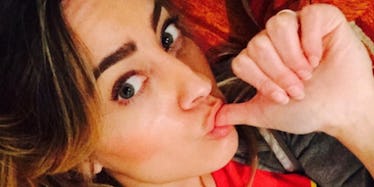 Model Giving Blowjobs To Voters Is 'A Little Bit Tired' After First Tour Stop
Instagram
Remember those "I voted" stickers that everyone wore with pride after the presidential election?
Yeah, they were cool and all — but just imagine a world where voters are rewarded with oral sex instead of some crappy sticker.
You might think there's absolutely no way that could ever happen, but, incredibly, something similar is actually taking place over in Italy.
Meet Paola Saulino, an Italian glamor model.
Last year, she made a daring promise — the kind of thing that would make even your sluttiest friend blush.
Paola said she would give a blowjob to everyone who voted "no" in Italy's referendum.
The most bizarre thing of all is that Paola claims she is sticking to her word. Apparently, she's just completed the first leg of #pompatour ("pompa" being the Italian word for a BJ, but you knew that already, obvs).
Oh, BTW, 19 million people voted "No" in the referendum. That's a whole lot of pompa. A big pompa party.
After completing her first dome-chroming mission in Rome, the model conceded she was a "little bit tired," writing on Instagram,
First step of #pompatour is gone! And #sscnapoli won! Great day, great match! A little bit tired by everything is ok #forzanapolisempre #napoli
Nope, no mention of lockjaw.
And how she found the time to watch her favorite soccer team play, we'll never know. But we're not here to talk sports, we're here to talk pompa.
Paola claims her fellatio adventure will take place in 10 Italian cities, finishing in Palermo later this month.
And if you're wondering whether all this is legit, an apparent receiver wrote, "It's all true!"
Paola is also selling bright pink "Pompa Tour 2017" T-shirts and coffee cups, which will hopefully lead to tons of awkward glances and fist bumps when two bros wearing the same tee spot each other.
For what it's worth, "no" won the referendum that was called to decide the future of Italy's constitution, picking up 59 percent of the vote.
I'm assuming the promise made by Paola, who is apparently as passionate about politics as she is about giving head, won over a few million voters.
Never underestimate the power of pompa.