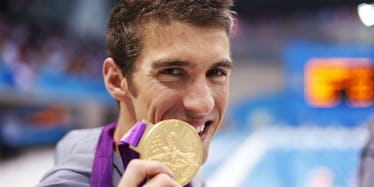 Michael Phelps Shutting Down This Enthusiastic Reporter Will Make You Cringe
REUTERS
I don't want to overuse the word "cringe," but if there was ever the perfect example of said word, this exchange with Michael Phelps would be it.
A reporter with the enthusiasm of seven puppies leaped on the Olympic swimmer as soon as he touched down at Phoenix Sky Harbor International Airport.
He asked Phelps how he feels to be back on US soil, and the athlete wasn't having any of it:
I'm not answering any questions guys. If you could give me that space while I try to get my family home and safe, I would appreciate that. If you guys want to do an interview you can contact my agency. I appreciate you guys coming, but I'm trying to get my family home safe and that's what matters the most. Thank you for understanding.
He went proper protective dad mode on that reporter's ass.
His response?
GREAT JOB, MICHAEL.
You've got to give that reporter some credit. He plowed through that pile of awkwardness like a champ.
Phelps' arrival home was far less dramatic than his teammate's.
On Wednesday Ryan Lochte was asked to surrender his passport to Brazilian authorities who are investigating his story about a robbery.
The swimmer was already home at this point, but teammates Gunnar Bentz and Jack Conger were pulled off their flight home to answer questions.
James Feigen, who was supposed to be on the same flight, didn't even show up at the airport.
According to Lochte's account of events, the four swimmers were returning home from a night on the town when the taxi they were in got pulled over.
Men brandishing police badges ordered them to lay on the ground.
Lochte refused, and one of the men cocked his gun and pointed it directly at his forehead, he told NBC.
He said the men made off with their money and his wallet but left their phones and credentials.
But Brazilian authorities aren't buying it. They're now saying Lochte lied about the incident.