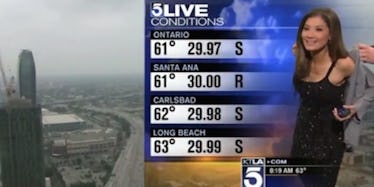 Weather Reporter Gets Told To Cover Up By Another Anchor On Live TV
Daily Mail
Qualifications for becoming a KTLA Morning News meteorologist:
1. Be f*ckable.
2. WOAH, WOAH, WOAH, NOT TOO F*CKABLE!
3. Anticipate how f*ckable you need to be (constantly walk the fine line between nude Kate Upton and a wool puppet of Margaret Thatcher).
Local Los Angeles news station KTLA is facing criticism after humiliating a female meteorologist during a morning broadcast.
In the middle of her morning weather report on May 14, Liberté Chan looked up to see a beige cardigan dangling in the corner of the frame from a phantom arm.
Chan asked,
What's going on? You want me to put this on? Why? 'Cause it's cold?
With no concern for the fact Chan was mid-sentence, mid-job, mid-broadcast in front of Saturday morning's viewers, KTLA anchor Chris Burrous replied from off screen,
We're getting a lot of emails.
Chan put on the cardigan, keeping her disposition sunny in the face of already infuriating treatment.
Once Chan's scandalous upper arms were thoroughly covered, Burrous gently cooed, "There you go, there you go, that's it," to the meteorologist, as though she was a dog taking a solid, healthy dump in its owner's backyard.
Chan commented,
I look like a librarian now.
Burrous replied,
That works!
SO glad it works, Chris. SO glad. That was definitely the best remedy to the situation, by the way. You are an expert problem solver with the class of Donald Trump and the terrifying smile of Warren Jeffs.
Burrous tweeted a photo of Chan in the cardigan, claiming it was a "compromise."
In a world where "compromise" means publicly shaming another person into agreeing to your solution, yes, Chris, this was a textbook compromise.
Twitter users were quick to hold Burrous accountable for his behavior.
@chrisburrous @KTLA @KTLAMorningNews problem solved after you publicly shamed her.... — joseph (@hoseph_) May 14, 2016
@chrisburrous @hoseph_ @KTLA Nobody buys your excuse. You humiliated her on air. Shame on you. — morðor of crāwes (@crowsight) May 15, 2016
@chrisburrous @KTLA @KTLAMorningNews If I email that I hate your suit & tie, will you have to change? Or is that just for women? — Far D (@fardareismai2) May 15, 2016
@chrisburrous @KTLA @KTLAMorningNews does it make you feel good to interrupt a woman's job to calm all your emailers by covering her up? — Krystyna Hutchinson (@KrystynaHutch) May 15, 2016
@chrisburrous @KTLA @KTLAMorningNews this was embarrassingly sexist, and poorly handled — seraphina picquery (@Katchin05) May 15, 2016
@chrisburrous @KTLA @KTLAMorningNews KTLA and Chris thought it would be *entertaining* to publicly humiliate her in live TV. Disgusting. — Kim Belicious (@KimsRustyWheels) May 15, 2016
Burrous apologized to followers, calling the comments he made an attempt to "have a good time," and asked for a second chance to behave like a professional adult with a modicum of decency.
@hoseph_ @KTLA no shame. Just kidding, offering up sweater. Good friends kid each other. Sorry I offended. We have a good time — Chris Burrous (@chrisburrous) May 14, 2016
@crowsight @hoseph_ @KTLA I completely understand meant in jest but I see how it seemed. I am sorry. I hope you will give me another chance — Chris Burrous (@chrisburrous) May 15, 2016
Fine, Chris, we'll give you another chance -- but only because, just like Chan, we have no current alternative choice in the matter.
Citations: KTLA comes under fire for 'publicly shaming' meteorologist by making her cover up with a cardigan after it received complaints saying her outfit was more like 'a New Year's Eve cocktail dress' (Daily Mail)