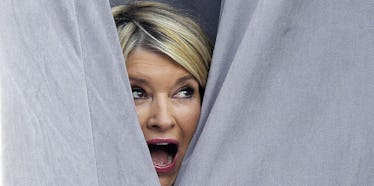 Martha Stewart Leaving A Party Double-Fisting Wine Puts Us Amateurs To Shame
REUTERS
You all know Martha Stewart — TV personality, DIY champ ... BOOZE HOUND?!
Yeah, according to a sneaky little source, Martha left the premiere of new movie "Bad Moms" double-fisting two glasses of wine.
She reportedly liked the branded glasses so much she nabbed a couple as she left the Metrograph in downtown Manhattan the other night.
Such loose behavior from M-dawg. She's proof you can go hard AND go home.
A source told Page Six,
When the movie let out, [Stewart] grabbed two glasses of wine off a tray and walked out the door and left for the evening. With the glasses! Full of wine!
Yes, Martha! More of this, please.
There's no picture, unfortunately. But here's what we imagine it looking like:
She appears alongside Mila Kunis, Kristen Bell and Christina Applegate in the film about overworked moms who like to get on the sauce and have a good time.
Martha told the audience that night, "I am known as a good mom, but in the movie... you'll see. I have a minor, minor role. I don't even know why I am standing up here."
You're standing there because we love you, Martha. You and everything about you. Keeping slayin', girl.