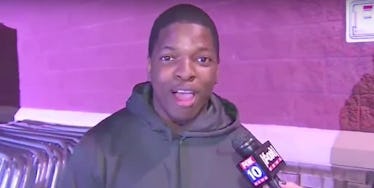 This Man Already Set Up The Ultimate Crib To Camp Out For Black Friday (Video)
Black Friday is one of the biggest days of the shopping year when it's OK for people to act a damn fool.
Camping out for days on end just to get a good deal on a TV is totally acceptable because the deals are just so damn real, right?
Anyway, Jarvis Johnson set a new precedent for society and has been outside of an Arizona Best Buy since Sunday.
He has the full crib set up -- complete with a tent, bed, TV, microwave and floor mat -- while he sits on his ass and does nothing, and he couldn't be more hyped about it. He might be a little too hyped, though.
While it appears his job is good with him taking time off to get some good deals on more electronics, I just don't really believe his bosses know where he is right now.
With everything said, shout out to the stunning reporter on the scene, Marcy Jones. You're the real MVP.
Citations: Man hoping to score best Black Friday deals already camped out (KPHO)