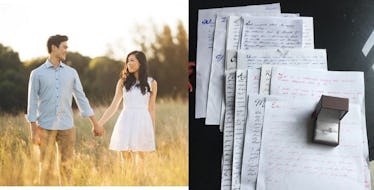 Man Cleverly Proposes By Sneaking Hidden Message Into Love Letters Over 3 Years
Ann Marie Yuen/Candice Catherine
Honestly, I've always thought Jim Halpert and Pam Beesly from "The Office" were goals to end all goals when it came to just about everything in the relationship department (never mind that they aren't actually real people).
Jim and Pam started off as friend goals, and then they were relationship goals. Eventually, they were proposal goals (when else is a proposal at a gas station romantic?!), and finally, they were marriage goals.
But I think I may just have to re-evaluate my standards, thanks to Candice and Tim.
The two didn't live far apart from one another, but still, over the course of their three-year relationship, Tim sent Candice a total of 14 love letters, each one beginning with an intricately drawn, capitalized letter.
Candice said,
Tim and I didn't live far away from each other but we sent letters because the idea of having our hearts poured out in the form of paper meant we had tangible memories to look back on.
Little did she know, after she had received all 14 letters, the capital letters would  be arranged to spell out Candice's marriage proposal:
And, guys, just like Jim bought Pam's engagement ring only a week after they started dating, TIM STARTED PLANNING THIS PROPOSAL A WEEK INTO THEIR RELATIONSHIP.
I know. I have chills, too.
Tim took his now-wife on a surprise trip to Hamilton Island, followed by a picnic at Watsons Bay (where they had their first date), before he revealed the hidden message behind his letters to her.
Candice described the magical day,
I woke up on the morning of December 16, 2015, with a letter next to me instructing me to get dressed and to only come out when I'm fully ready. As soon as I opened the door, I found rose petals and candles everywhere – my heart skipped a beat and I knew it was coming. He sat me down in the living room with all the letters that he had written to me on the table. We read them out one by one reliving the memories of our dating years. After we read all of them he then carefully arranged the letters and asked me to look at them.
As most of us would, Candice burst into tears when she realized the letters spelled out his proposal to her.
According to Candice, grand, romantic gestures like this one are the norm for her husband, because of course they are.
The 25-year-old said,
On our wedding day Tim sang a song he'd written for me two months after we started dating. So he'd been saving this piece of music for years. Tim is always like this. He's genuinely a thoughtful and romantic kind of guy.
And, just like my other favorite couple, Candice and Tim started off as good friends before they took things to the next level.
Candice said,
Even though it took a long time for our friendship to blossom into love we are so grateful that we got to become friends first. The fact that we knew each other so well made the relationship feel so secure.
In case you didn't already realize, the bar has officially been raised for all future marriage proposals. Good luck topping this one, guys.
Citations: Man spends THREE YEARS proposing to his girlfriend through love letters he began writing a week after they started dating... with the first letter of each note spelling out 'Will you marry me?' (Daily Mail Australia)