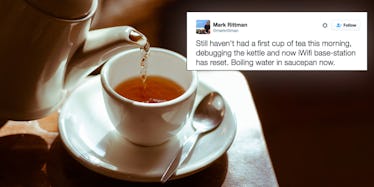 Man Live-Tweets 11-Hour Struggle To Make Tea, Everyone's Brains Explode
Twitter/Shutterstock
Simple pleasures and technology just don't mix well sometimes.
You know, like trying to fall asleep or make a cup of tea without getting distracted by your buzzing phone.
Of course, there are people out there who want their lives to become more streamlined and convenient with the help of technology.
Take Mark Rittman, for example, who's a data specialist from the UK living in a "smart home."
For most British people, tea is serious business. Rittman is no different.
But one simple part of his routine became an 11-hour technology crisis when he attempted to make tea with his new WiFi kettle.
It wasn't nearly as easy as he'd thought it would be.
Of course, Rittman HAD to share his frustration with the rest of the internet.
Still haven't had a first cup of tea this morning, debugging the kettle and now iWifi base-station has reset. Boiling water in saucepan now. pic.twitter.com/lC3uNX5WTp — Mark Rittman (@markrittman) October 11, 2016
I couldn't imagine doing this much work for a cup of coffee in the morning.
I enjoy the "dumb" two-step process of boiling water and brewing coffee in a French press. Wouldn't technology take all the fun out of it?!
To each his own, I guess.
Rittman continued to have issues with his WiFi kettle. He was in too deep to give up.
3 hrs later and still no tea. Mandatory recalibration caused wifi base-station reset, now port-scanning network to find where kettle is now. pic.twitter.com/TRQLuLzLpx — Mark Rittman (@markrittman) October 11, 2016
His fans on Twitter could not handle this endless saga.
A lot of people were thinking the same thing:
At this point, I would have returned the damn WiFi Kettle, gone to my nearest coffee shop and sat quietly in a corner to recover from this technological headache.
But not Rittman. He's dedicated to his automatic WiFi kettle, which hooks up to Alexa so it's voice activated.
That's cool, but is it necessary?
Now my wifi kettle is basically taking the p*ss. Told me it had found network, now you need to recalibrate me, oh btw I didn't rly connect pic.twitter.com/WbGsIrzBio — Mark Rittman (@markrittman) October 11, 2016
When he finally did make progress, his kettle temporarily caused other smart functions in his home to malfunction.
Well the kettle is back online and responding to voice control, but now we're eating dinner in dark while lights download a firmware update pic.twitter.com/yPTDoUkM9Z — Mark Rittman (@markrittman) October 11, 2016
What a nightmare. All for a kettle.
Finally, after 11 hours, Rittman got it to work.
My work is done. And now onto everything else I meant to do today, after that first cup of tea. pic.twitter.com/bJPuJ85TCT — Mark Rittman (@markrittman) October 11, 2016
I hope his cup of tea was the best, most refreshing thing he has ever consumed.
Citations: British man live-tweets desperate, 11-hour struggle to make tea using Wi-Fi kettle (Mashable)