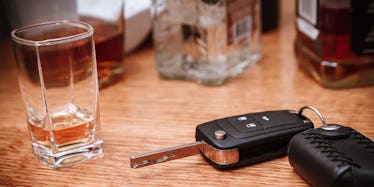 This Man Wrote A Letter To Thank The Police Officer Who Gave Him A DUI (Photo)
Shutterstock
After getting nabbed for drunk driving in Georgia over the summer, a man wrote a letter to thank his arresting officer for saving his life.
According to the police report, the man, who has not been named, was driving along Highway 74 in Tyrone, Georgia when he missed a turn and drove off the road. Sgt. Jacob Collins witnessed the accident and arrested the driver for driving under the influence.
On Monday, the Tyrone Police Department received a letter from the man thanking Sgt. Collins for saving his life.
The letter addressed to Police Chief Brandon Perkins said,
I write to express my thanks and gratitude to Officer Jacob Collins. Officer Collins pulled me over on Highway 74 during the morning of July 31, 2015.  I was severely intoxicated. He saved my life and the lives of others, and I truly appreciate his actions and his efforts. ... I do not like being on probation, and I do not enjoy paying a series of fines, fees and insurance hikes; however I am grateful to be alive. I thank Officer Collins and your entire department.
Though Chief Perkins said the department often receives thank-you letters from victims and those the department helped, this was the first time the department received a letter from a criminal.
Perkins said,
This is kind of a testament to what law enforcement does every day. Our job is to go out there and make sure people are safe, and that's what Collins was doing that night, and the end result was the driver is safe, he didn't hurt anyone and the message was sent, that that's what we're here to do.
The Tyrone Police Department posted a picture of the man's letter to Facebook to remind people of the good things law officers do, despite how the media may sometimes paint them.
Read the letter below.
Citations: Man Thanks Officer for DUI Arrest (FOX 5)