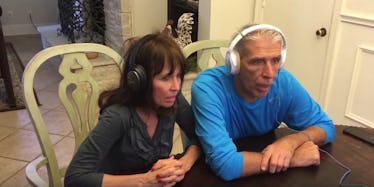 Man Has The Cutest Reaction When He Finds Out He's Going To Be A Grandpa (Video)
Let's hope this woman's dad never goes deaf because he is potentially the world's worst lip-reader.
YouTube user and fan of "The Tonight Show Starring Jimmy Fallon" Alexa Goolsby turned to show host Jimmy Fallon for inspiration on how to break the news of her pregnancy to her parents.
Using the Whisper Challenge, commonly played on the late-night show, Goolsby and her significant other played loud music through her parents' headphones on game night and then filmed her mom and dad trying to lip-read the big news.
Mom obviously got it right away, but dad, a shouter, took a bit longer.
Still, the adorable reaction when the dad finally realized he's going to be a grandfather was so much sweeter after a buildup of screaming,
SHORTS! SHORTS!… YOU ARE GOING TO THE BEACH!