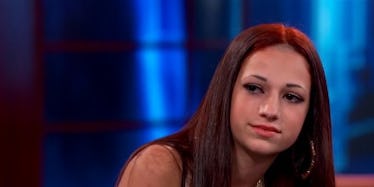 How To Make A "Cash Me Outside" Costume That'll Make People Say "How Bow Dah?"
It's finally September, which means Halloween is right around the corner. Unless you've been living under a rock, you know that 2017 has been a really eventful year as far as pop culture goes. For example, take all of the Dr. Phil show guests. In fact, one Dr. Phil guest in particular has made a name for herself out of being a disrespectful teen: Danielle Bregoli. You might know her as the "Cash Me Outside" girl, and you might want to be her for Halloween. If so, I have an easy DIY "Cast Me Outside" costume idea for you.
First, let's revist who Bregoli actually is. The teen became an overnight sensation while appearing as a guest on the Dr. Phil show due to her bad behavior. A stunned audience couldn't believe Bregoli's crummy behavior, and in response to their shock, Bregoli yelled: "Cash me outside, howbow dah?" That moment instantly became internet gold, with memes and dubbed videos popping up all over social media.
Naturally, a viral sensation — like the "Cash Me Outside" girl — would serve as the perfect inspiration for a Halloween costume. So if you're looking to dress up as Danielle Bregoli this Halloween and need some ideas, I've curated a small list of items I think would be very useful for your costume.
Check out the list below and see what you'll need, how bow dah?
A Red Wig
If you want to be a believable Bregoli, you're going to need a nice red wig. You can find one on Amazon for only $16.
Big Hoop Earrings
The Cash me outside girl would be nothing without her hoop earrings. You can try this pair on Amazon for $4.99. They totally pull the look together.
A Brow Pencil
For this costume, you're going to need a brow pencil so you could draw on some really thin brows. Just make sure you conceal your actual brow before hand. You can buy an eyebrow pencil here.
A Camisole With Exposed Bra Straps
No Danielle Bregoli look would be complete without a simple camisole. Just make sure you include a pair of exposed bra straps and you're good to go.
Ripped Jeans
To top your costume off, be sure to buy a pair of ripped jeans. You can buy this pair on Amazon for $13.99.
Happy Halloween!