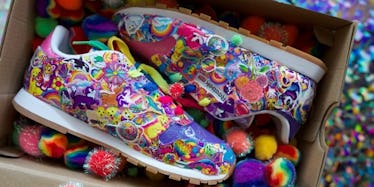 Magical Lisa Frank Reebok Sneakers Exist And Only 2 Lucky Winners Can Wear Them
Reebok
The '90s are back. They've been back for a while, and it doesn't look like the fashions of the decade are going away any time soon (you know you secretly love all the chokers). Lucky for you, that means the time is right for a collaboration of two of the hottest '90s brands. That's right, Lisa Frank and Reebok teamed up to make sneakers of your middle school dreams. Read on to find out how to win Lisa Frank Reebok sneakers.
Remember that first day of school when everyone would break out their fresh school supplies? You bet you were flaunting that pink and purple unicorn folder that your mom finally let you buy after shamelessly pleading with her. Lisa Frank was the brand of every bougie middle schooler. Her colors and designs were whimsical and energizing -- a little power up with Lisa was just what you needed to get through long division.
Chances are you also were sporting your fave Reebok sneakers as you hoofed your way from class to class. You probably always looked forward to gym class so you could crush some dodgeball in your trusty sneakers.
Well, get ready to be transported back to '97 once you get a glimpse of these shoes that are the product of the best mash-up ever. Reebok announced that they teamed up with Lisa Frank to create some nostalgia-packed sneakers. The shoes have the classic Reebok style and the most beloved Lisa Frank designs of your youth. Seriously, it's like the contents of your fourth-grade desk have been transferred onto your favorite Reebok Classic Leather shoes.
The two brands were apparently a natural pairing because Lisa told Reebok, according to Reebok's press release, "I've always been a sneaker girl and I'm forever on the lookout for fun new styles." Honestly is there anyone better to create a fun style than Lisa? Given her thoughts on design, I'd say she's the perfect fit as she told Reebok, "Rainbow colors and fantasy characters never go out of style."
But here's the catch: there are only two pairs. Yep, only two, but you have a chance to win one of them!
All you have to do is answer the question: "What's your favorite trend from your back to school days?" Tweet @Reebok and @LisaFrank your best answer, and then Reebok will pick two winners.
Just make sure you get your answer in today, Aug. 29, by 11:59 p.m. EST. Easy enough homework for a possible wardrobe upgrade, right?