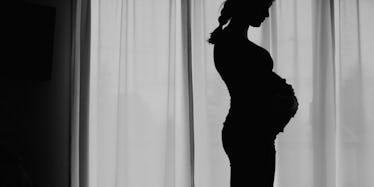 This Girl Was Banned From Walking At Graduation Because She Was Pregnant
Maddi Runkles is an 18-year-old student with a 4.0 GPA and who was student council president. But she won't be allowed to walk in her high school graduation this year.
Why, you ask?
Before graduation, Maddi got pregnant. And as a result of her pregnancy, her school, Heritage Academy (a Christian high school in Maryland), is "punishing" her by not allowing her to walk at graduation and also kicking her off student council.
Needless to say, this decision is pretty infuriating to a lot of people for a lot of reasons.
From the pro-choice stand point, people believe this woman is being punished for freely making a decision about her own reproductive rights.
From the pro-life stand point, people believe this woman is being punished for making what they think to be the morally right decision to forgo abortion and keep her baby.
"She made the courageous decision to choose life, and she definitely should not be shamed," Kristen Hawkins, the Students for Life president advocating for Maddi's right to walk at graduation, told The New York Times. "There has got to be a way to treat a young woman who becomes pregnant in a graceful and loving way."
The New York Times reports Maddi found out she was pregnant back in January, just a few days before getting accepted to her dream school, Bob Jones University.
After trying to keep her pregnancy a secret, Maddi finally shared the news with her mom, Sharon. Eventually, she told her dad, who led the Heritage Academy board at the time, as well. Though, he removed himself from participation in any board decisions involving Maddi, and later left the board due to the way he felt his daughter was being treated.
Her dad reacted by calling an "emergency meeting," where they would break the news to the school's principal, Dave Hobbs, and the other board members.
When the news came to her school, Maddi told the New York Times she knew she would be punished "because I did break the school code" by engaging in premarital sex.
Mr. Hobbs wanted to announce the news of her pregnancy to her older classmates, but Maddi insisted that she do so herself. In an emotional session at the school's auditorium, Maddi stood in front of her peers and broke the news.
"I told on myself," she told The New York Times. "I asked for forgiveness. I asked for help."
Despite her requests for help and forgiveness, her school responded by giving her neither.
In an interview with The Herald, principal Hobbs explains his decision.
If you didn't get a chance to listen, here's what he said:
This is an issue of a standard of abstinence. That's what the issue is here. The issue is not pro-life or abortion. The issue is a standard of abstinence. And that's why discipline must be applied for Maddi's benefit. What we do is we look at every situation on an individual basis. Every child is different. Every family is different. So therefore we want to be able to look investigate, to incorporate the family in the process and then make decisions that are best for every situation.
In a written statement, Hobbs confirmed Maddi would still receive a diploma.
Although Hobbs insists their decision had nothing to do with being pro-life or pro-choice, Maddi explains that the complete lack of support from her supposedly pro-life school community has made her feel as though abortion might have been the better decision after all.
"Some pro-life people are against the killing of unborn babies, but they won't speak out in support of the girl who chooses to keep her baby," she told the New York Times. "Honestly, that makes me feel like maybe the abortion would have been better. Then, they would have just forgiven me, rather than deal with this visible consequence."
Maddi is doing her part to try to make the world a better place for future women in her area put in the same position by starting a chapter of Embrace Grace, a program aimed at helping and supporting single pregnant women.
Citations: Pregnant at 18. Hailed by Abortion Foes. Punished by Christian School. (New York Times)