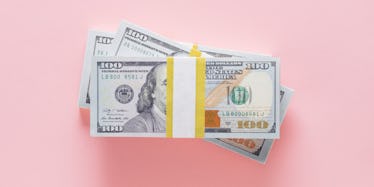 Lucky Teen Wins Lottery Twice In One Week, You'll Cry When You Find Out How Much
Kristin Duvall
Wining the lottery has always been a dream of mine, but unfortunately, my luck with scratch-off tickets is basically nonexistent. (I usually walk away with the penny I used to scratch the numbers with, and that's it.)
A lucky 19-year-old from California definitely can't say the same, because she recently won the lottery two times in one week... and I'm not just talking a dollar or two.
Rosa Dominguez won a total amount of $655,555 in a matter of days.
YUP. THAT'S A LOT OF MONEY.
Did you read that correctly, or are you still in shock? If you're having a hard time processing this, I'll break it down for you.
According to ABC, lucky Dominguez initially purchased a scratch-off lottery ticket from a gas station and won a total of $555,555. Apparently, she was "nervous" and "just wanted to cry."
Girl, if I won $555,555 at the gas station, I'd be lying in a puddle of happy tears... just sayin'.
After scoring a ton of dough on that lottery ticket, the teen decided to press her luck by buying another scratch-off at a different gas station a few days later.
Well, it's a good thing she did, because Dominguez hit the lottery... again.
It's been reported the teenager won $100,000 on the second scratch-off ticket a few days after winning $555,555 on her first one, which singlehandedly makes her the luckiest teenager ever (in my opinion, at least).
Apparently, the California State Lottery didn't say when each ticket was purchased, but they did say Dominguez collected her cash. As much as I am happy for her, I'm still super jealous of all the money that landed in her wallet in a matter of days.
So, what does one do with two lottery wins in one week?
Apparently, Dominguez plans on buying herself a new car and going shopping. That sounds like a good plan to me.