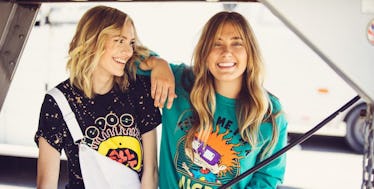 This Apparel Line Pays Homage To '90s Nickelodeon Shows And It's All That
Courtesy of Love Tribe/Hybrid Apparel
The '90s are synonymous with Nickelodeon. Any millennial will admit to spending time in Tommy Pickles' playpen, freaking out about the Midnight Society's latest spooky tale, and journeying alongside Rocko for his crazy shenanigans. This channel was, without question, one of the best parts about growing up. One brand was so inspired by Generation Y's love for the network that it decided to do something about it. Love Tribe's new line is '90s Nickelodeon themed, and you're going to love it just as much as Helga loves Arnold.
Love Tribe, which was created by Hybrid Apparel, decided to team up with Nickelodeon to sell this line exclusively at Macy's. Beginning Aug. 15, the clothes will be in stores nationwide, in addition to Macy's website where they became available on Aug. 7. You need to make a bee line to the nearest location so you can get your hands on items that pay homage to All That, The Rugrats, Clarissa Explains It All, Spongebob Square Pants, Ren & Stimpy, and more. If this news doesn't take you back in time, nothing will.
"The idea for Love Tribe is that everything we do has to have meaning. It's not just about selling stuff," Bonnie Dogan, vice president of sales for specialty retailers at Hybrid Apparel, tells Elite Daily. "We got the idea that it would be really great to design something that was nostalgic and reminded us of our childhood. The bright colorful palette gives the line a fun, youthful, playful feel."
With bold colors, iconic one-liners, and everyone's favorite characters, these clothes are definitely going to make a splash a la the iconic green slime. Who doesn't appreciate a entertaining throwback?
"The pieces aren't just about fast fashion and something on trend right now that you will wear once and forget about," Dogan adds. "This line is something you will want to collect and keep forever."
Having collaborated with Disney to reveal everyone's inner princess and working on its anti-bullying messages with its line Compassion Brand, Love Tribe certainly tries to make each outfit personal, and that's certainly the case for the Nick line. So what are you waiting for? Go get your gear before Angelica decides she needs everything for herself.