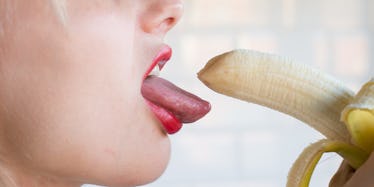 London Is Going To Be The Next City To Open Up A Blowjob Coffee Shop
Shutterstock
If you live in London, I have some news that may... uh... excite you.
London may be the next city to set up a coffee shop where its customers can also receive oral — you know, just your standard blowjob bar — which is also known as the Fellatio Cafe.
Yes, you read that correctly: sex and coffee at the same time.
This won't be the first blowjob bar, either. There are already reports to open a Fellatio Cafe in Geneva, Switzerland, which is expected to open at the end of this year.
As for if a blowjob bar is even legal or not? Well, prostitution isn't illegal in Britain, but running or owning a brothel is, so there's that.
But, the public relations manager of the company BumPix (the escort company spearheading the blowjob cafe movement in the UK) insists the company is going about it the legal way, and that BumPix's "lawyer is currently setting everything up."
Here's how it would work: Customers can choose which escort they want to give them a blowjob by skimming through thumbnails on an iPad.
The fee is $65, but for every added 15 minutes, customers will have to shell out an extra $13.
If you don't have money to spare, I'd recommend not getting your coffee from a blowjob bar.
I reached out to BumPix's PR manager because I had some questions.
When I asked him if customers would get blowjobs out in the open or behind closed doors, he informed me they'd get private rooms.
I also asked him if there's an age limit for the sex workers, to which he replied they must be 18 or older. The same age limit applies to the male customers.
He went on to say,
During our market study, we found a lot of customers who absolutely LOVED their experience, especially the morning. They said that an early Fellatio Cafe boosts their performance for the day at work!
Well, what do you know?
The Independent did some digging up of its own in an interview with the company. BumPix's representative said waitresses will strictly sell coffee, while the sex workers will be the ones to perform the oral sex.
He also pointed out the coffee shop will only serve coffee and not other indulgences like alcohol or ice cream, and that their bar idea was inspired by Thailand. That makes sense, considering there's a large number of sex workers in Thailand.
BumPix says it intends on opening the Baroque-themed cafe in Praed Street near Paddington in London.
Basically, all you single dudes should move to London because that's where the party's at.
Citations: London to get coffee and fellatio cafe (The Independent)