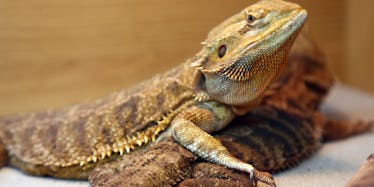 These Lizards Cuddling In Bed Are Relationship Goals And Twitter Is Swooning
Paul Brown/ Shutterstock
Which couples come to mind when you think about relationship goals?
I automatically think of JAY-Z and Beyoncé, because no matter how many Beckys or elevator fights, the couple remains strong.
You can also throw Channing and Jenna Dewan-Tatum, Ryan Reynolds and Blake Lively, and John Legend and Chrissy Teigan into the mix because they're all beautiful couples.
But a new couple going viral on Twitter is threatening to dethrone the celebrity relationship goals we idolize.
The couple in question loves cuddling and watching Jurassic Park. Oh yeah, did I mention this couple also happens to be cold-blooded?
That's right, these lizards are winning at love and I can't even get a text back.
The tweet was posted by @CakeFacedCutie on July 10 and has already received more than 12,000 retweets and many hilarious comments.
It's true love.
Netflix and chill, reptile edition.
One user found it funny the lizard couple was watching a movie about their "ancestors."
How clever are these lizards!?
Other users didn't even notice they were seeing lizards in the first place.
I'm not going to lie, it took me a second to figure out what I was looking at too. But I definitely didn't see footwear!
Twitter user @Rxanadu decided to get creative and set up a date scenario starring the lizards.
OK, well that's a vivid imagination!
The lizards cuddling in bed are bearded dragons, and they're particular creatures with unique personalities. They're also known to be one of the only lizards who actually enjoy cuddling — either with each other or their human owners.
This lizard couple shows that love has no boundaries, and if you work really hard at your relationship, you too can become couples goals.
Nah, I'm kidding. This viral photo of this lizard couple Netflix and chilling only proves anything can go viral on the internet (and that even animals Netflix and chill).