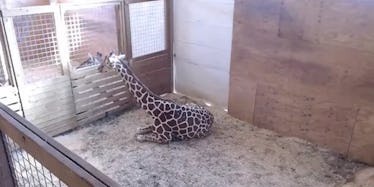 Captivating Livestream Of Giraffe About To Give Birth Unites Entire Internet
YouTube
It apparently takes a very long time for giraffes to give birth, and the internet is getting extremely impatient.
Animal Adventure Park in Harpursville, NY, has been livestreaming April the giraffe over the past few days. Many are tuning in, hoping to watch her give birth.
However, those following the livestream are continuously disappointed because it hasn't happened yet.
People are obsessed with this giraffe.
At one point, the livestream caused controversy when alleged animals rights activists reported it.
It was temporarily taken down, according to Mashable.
It's since been put back up, but not before Adam Patch, the owner of the park, vented frustrations on Facebook Live.
Patch said,
Instead of sitting behind a keyboard or holding up protest sign, get behind conservation. We're all on the same team. We want the best for these animals, and we would love to have them in their natural environment one day. But until we can control the destruction of natural habitat and poaching —  that is not going to happen.
A lot of people seem to agree.
One of the comments on his Facebook Live post said,
Education = conservation! You are doing a great thing and this is a well-spoken and correct way to help others learn and lead to conservation. Thank you! We love you April!
In a subsequent post on the Animal Adventure Park Facebook page, another commenter added,
I'm so sorry there is so much negativity surrounding such a beautiful, natural thing. Your staff has shown such affection toward April. It's easy to see she trusts them, and to see the love they have for these animals. It's very reassuring to know that zoos like you are helping rebuild the population of such a beautiful creature. Props to your zoo and staff! Praying for a healthy delivery and a healthy baby! GO April!
People debate a lot of things on the internet, and it's often a very divisive place. But it's safe to say people are definitely united behind two things right now: April being awesome, and the desire to see her give birth ASAP.
The internet is a strange, beautiful place.
Citations: Livestream of pregnant giraffe taken down for nudity and sexually explicit content (Mashable)