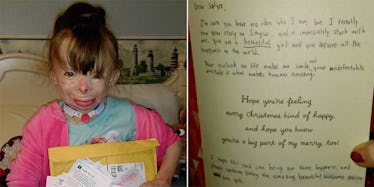 8-Year-Old Burn Victim Who Lost Her Family Is Getting Cards From All Over
Safyre Terry survived the arson attack that killed her father and three siblings two years ago but still faces several surgeries to tend to her critical burns.
Friends of the 8-year-old hoped she could enjoy a merry Christmas after having lived through such tragedy, so they began an online campaign to fill Safyre's card tree with Christmas cards from all over the world.
I wonder how many of my friends would take the time to write and send Safyre a Merry Christmas card that she can hang on her card tree....Safyre P.O. Box 6126Schenectady NY 12306 Posted by Kevin Snapshot Clark on Friday, December 4, 2015
A post on Imgur dedicated to the cause read,
Let's make this little girl's Christmas wish come true... Safyre is a remarkable young lady who has been through so much… Her life is not easy with the surgeries she faces, but she has come a long way and is a very happy miracle child.
This little girl is no stranger to the kindness of her Rotterdam, New York community.
Joy Joy the tree is decorated. Posted by Safyre Schenectady's Super Survivor on Sunday, December 6, 2015
A motorcycle rally in September fundraised for Safyre's medical bills.
In an interview with NEWS10, biker Eric Yesse talked about Safyre saying,
She's still here, she's still hanging in... Our goal is to watch her walk down the aisle when she's old enough to get married, because we're going to be around that long and we're going to help her every step of the way.
Yesse added,
She's amazing, if she doesn't give you inspiration, nothing will.
The fire that took the lives of her 33-year-old father, David, and her siblings, Layah, 3, Michael, 2, and Donavan, 11 months, left Safyre with burns on 75 percent of her body.
It's 2 years today that we SURVIVED our greatest loss. Safyre brought candles and flowers to her daddy, sister, and... Posted by Safyre Schenectady's Super Survivor on Saturday, May 2, 2015
Those interested in sending Safyre a creative card for her tree will spend mere minutes making one deserving young girl's Christmas wish come true.
Citations: Safyre Terry: young burns victim receives Christmas cards from all over the world after online appeal (The Telegraph), Local bikers show their support for Safyre Terry (NEWS10)