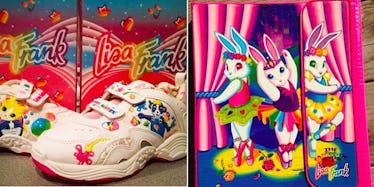 This New Lisa Frank Adult Coloring Book Is Every '90s Kid's Dream Come True
Instagram/Lisa Frank
When I was in second grade, Lisa Frank was the Balmain of school supplies.
If you weren't reppin' a Lisa Frank folder, you might as well not even exist in the elementary school world, just like if you don't rep Balmain, people probably don't know your name in the fashion world.
OK, OK. That was dramatic, but those colorful, girly folders, pencil cases and notebooks were the most stylish things a kid could have. I mean, Lisa Frank made designs for everything you could ever need, and the company didn't hold back when it came to colors. Like, how did anyone fall asleep surrounded by this insane bedding?
Well, listen up, '90s babies, because these decked-out, rainbow patterns are back, and now, they're the most stylish things adults can have.
Yep, that's right. Lisa Frank is making a comeback in the adult world. The company just announced on Instagram it will be releasing a line of adult coloring books in true Lisa Frank fashion -- aka intricate patterns and designs filled with unicorns and flowers and rainbows galore.
Adult coloring books and Lisa Frank combined?! Could you get any more on trend? I don't think so.
There's no word on exactly when the throwback coloring books will be available, but I'll be pre-ordering one of these babies the second that announcement is made.
Citations: ALERT: Lisa Frank Will Begin Making Adult Coloring Books (Teen Vogue)