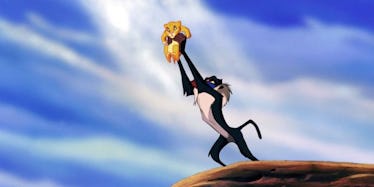 You'll Be So Disappointed By What The 'Circle Of Life' Lyrics Actually Mean
Walt Disney Pictures
You probably didn't wake up this morning thinking about the lyrics to the "Lion King" song, "Circle of Life," but after you read what the translation of those lyrics actually means, well, you might not be able to stop thinking about it.
Apparently, "Circle of Life" is sung in Zulu...
Nants ingonyama bagithi Baba / Sithi uhm ingonyama.
The above statement reportedly translates to:
There comes a lion / Oh yes, it's a lion.
Like, thanks, guys. We really couldn't tell "The Lion King" is about a lion. Sure, there's nothing hysterical or offensive about these lyrics -- sorry to disappoint -- but that's just the point.
"The Lion King" is synonymous with my childhood, and now, well, it feels like no matter how much I might've enjoyed that movie, it'll never be as epic as I thought it once was.
The real kicker, though? It looks like some folks on Twitter knew years ago about this "Lion King" travesty.
Did you know about this? Why didn't anyone tell me about this?
I don't know about you, but after making this startling discovery, I'm going to go home after work today and drink vodka until I can't remember why I'm drinking vodka in the first place.
Citations: Someone translated the "Lion King" introduction song — and it's, well, not what we expected (Hello Giggles)