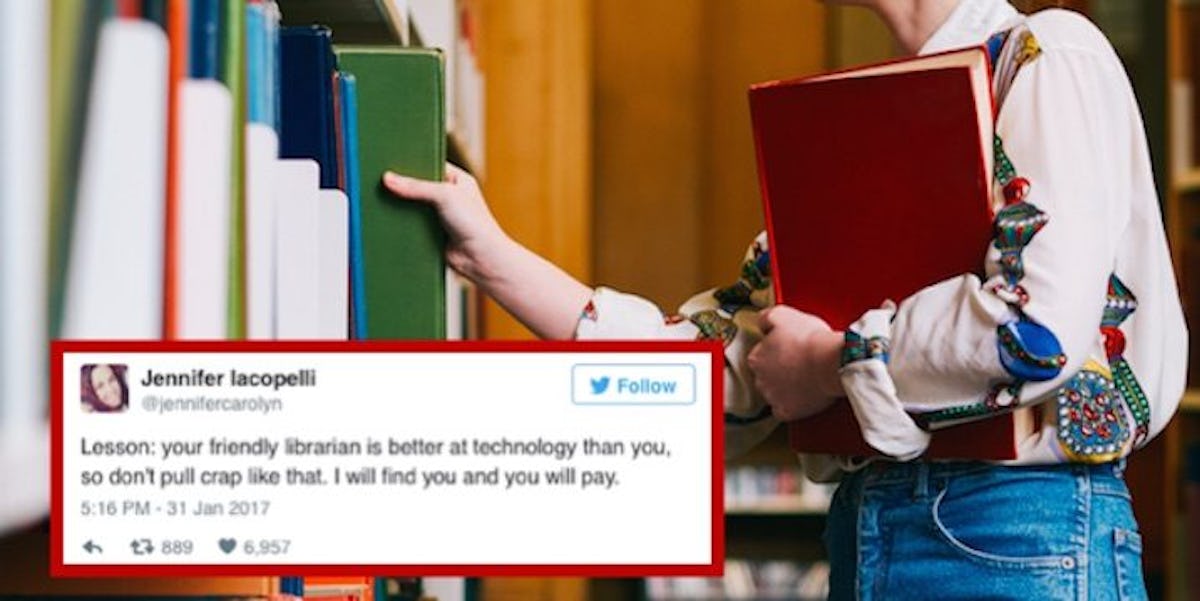 Badass Librarian Helps Grounded Student Get Revenge On School Bullies
Librarians tend to get a pretty bad wrap.
When you think about the stereotypical librarian, the first thing that normally comes to mind is a miserable, old woman who loves classic literature almost as much as she adores her nine cats, hasn't been laid since Reagan was president and runs a ship that's just as tight as the bun on her head.
Librarians are always eager to glare at you through the glasses snootily placed on the tip of their noses and remind you that the library is a place where thing like talking, eating, drinking and general happiness are strictly prohibited.
Not to mention, these ladies will basically make you feel like a convicted felon for turning in your book a few days late.
However, it turns out not all librarians are as bad as we make them out to be.
Jennifer Lacopelli is a self-proclaimed "Badass Librarian" who helped a grounded student get revenge on a bully, and this book-wielding woman is basically a hero.
Lacopelli was manning the library when a grounded student, who had apparently lost cell phone privileges, approached her, crying.
The sad 12-year-old girl told Lacopelli some bully had "hacked" into her English assignment.
If that's not bad enough, her mom saw all the obscenities in her English paper and grounded her.
The girl insisted she didn't write those things, so Lacopelli came up with a genius way to prove she was an innocent victim in this cruel prank. She opened up the Google doc and saw that the edits were made at 2:16 pm.
Then she accessed the security footage for the school library at the same time and found three students hovering over a computer, with one typing.
Upon rewinding the tape, she sees the girl using the same computer prior to the suspicious group of boys.
Apparently, the student never signed out of her account, so the mean boys decided to make some X-rated edits to her original paper.
After taking a screenshot of the suspects, she uncovers the identity of the bullies.
Then, the librarian continued her detective work by checking the sign-in records for their names, and sure enough, all three boys signed into the library at the same time.
After gathering up all the evidence, the library had all three boys written up and punished with in-school suspension.
But that's not all. The student's mom also rescinded the girl's punishment and returned her phone.
Long story short: You definitely don't want to mess with this school librarian.
Citations: School Librarian Helps Grounded Student Prove Her Innocence Using Google Docs (Distractify)