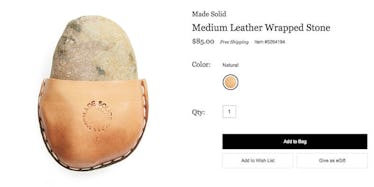 No One Knows WTF To Think About This $85 Rock In A Leather Pouch At Nordstrom
Nordstrom
Christmas is right around the corner.
If you're looking for something to give all of the naughty people on your shopping list, you could load up some Christmas stockings with lumps of coal.
Or you can take a more creative approach to your gifting by swapping out the passé coal for a unique gift that rocks. Literally.
Yep, it appears you can now buy a stylish $85 rock in a leather pouch at Nordstrom.
No, really, I'm not kidding. Nordstrom is legit selling a fancy rock in a chic leather sheath from Made Solid and all I have to say is I think I have officially lost all faith in humanity.
Now, you're probably wondering, what the hell is one supposed to do with an expensive rock in a pouch?
Well, Nordstrom writes,
A paperweight? A conversation piece? A work of art? It's up to you, but this smooth Los Angeles-area stone—wrapped in rich, vegetable-tanned American leather secured by sturdy contrast whipstitching— is sure to draw attention wherever it rests.
Nordstrom also provides insight on the superb craftsmanship of the piece in the product details, stating,
A traditional hardening process gives the leather a beautiful ombré effect. Like all Made Solid pieces, this one is cut, shaped, sewn and finished by hand in artist Peter Maxwell's Los Angeles studio. Using vintage leatherworking tools and traditional saddle-stitching techniques, Maxwell aims to create beautiful designs that embody both simplicity and functionality, and that develop rich character and patina over time.
As you can imagine, people are pretty confused about this stony statement piece.
A lot of people have been asking the Twittersphere if this thing is real or some sort of weird inside joke only Nordstrom understands.
Twitter is having a field day with this absurd $85 rock in a bag.
A lot of people are finding it hard to believe this thing could actually exist IRL.
Some Twitter users have pointed out if you're going to shell out that much money for a pet rock, it better have some sort of super power, or at least come from the moon.
Because let's be real, $85 seems like a lot for something you can dig up for free in your backyard.
Other people said they would be a lot more excited if this leather pouch housed The Rock rather than some random stone from LA.
If you ask me, this thing is basically like coal for rich people.
Plus, all you need is a bloody handprint to turn this thing into a chic BFF that would put Wilson to shame.
While this particular fashion accessory may seem a little odd to some people, it's actually been getting rave reviews on Nordstrom's website.
One person revealed this impressive rock will make everyone in your village super jealous.
Another happy customer wrote she even chose to buy this exciting rock over putting food on the table for her homeschooled children.
However, one person was a little disappointed this rock didn't come with a set of directions.
If an $85 stone is out of your Secret Santa budget, don't worry.
Nordstrom is also selling a smaller edition of this bad boy that will only set you back by 65 bucks.
Seriously, what a time to be alive.
Citations: Nordstrom is selling a fancy rock for £70 Read more: http://metro.co.uk/2016/12/06/nordstrom-is-selling-a-fancy-rock-for-70-6303686/#ixzz4S4DADiO9 (Buzzfeed)