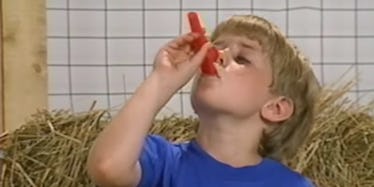 Someone Found The Man Who Was 'Kazoo Kid' In That Insane Viral Video
Over the past several weeks, a video from 1989 showing a child excitedly playing a kazoo became something of a legend.
The three-minute video, "You On Kazoo!" has been on the Internet for some time but recently found popularity among viewers who then helped rocket the video to viral fame.
There have been countless parodies of the hilarious clip, but until recently, nobody knew who Kazoo Kid really was.
Yesterday, the Internet finally found him -- a man by the name of Brett Ambler -- on Twitter (and subsequently bombarded him with questions about his past life).
See the hilarious saga unfold below.
First thing's first: Here's "You On Kazoo!" in all its glory.
Brett Ambler's sudden fame started when Twitter user @penguin_man97 identified him as the kid from the viral video.
From there, things got a little out of control.
People wanted answers…
Requested encores…
...and gave Kazoo Kid the love he deserves.
It was pretty weird...
But Ambler kept his cool throughout the sudden fanfare…
…and even played along.
Kazoo Kid, you're the best.
Citations: Everyone's Obsessed With This Completely Wild Video Of A Kid Playing His Kazoo (BuzzFeed)