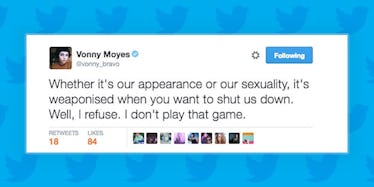 Journalist Calls Out Troll Who Leaked Her Nude Pics: 'I Refuse To Be Sex-Shamed'
Twitter
Siobhan "Vonny" Moyes, a journalist based in Edinburgh, Scotland, is being applauded for her defiant and powerful response to a troll who found and published nude photos of her online.
She just provided yet another example of why you should never slut-shame or sex-shame women.
Unfortunately, there's an enormous double-standard surrounding this issue, and men are simply not subjected to the same type of ridicule.
This is also, sadly, another example of a female journalist being attacked for her sexuality by someone who disagreed with her political or social views.
In other words, this troll attempted to undermine a woman's opinion by using her sexuality against her.
This happens far too often, and it's always wrong.
But Moyes showed exactly how you should respond to such blatant misogyny.
Speaking with Elite Daily, Moyes explained what inspired her to take such a public stand against this online abuse,
It's obviously hugely hurtful to have something like this happen, but there's a lot to be gained from pausing and deciding to take a measured response. As a woman with a public profile, I know I have the privilege of platform that most other women don't, so I can use it to send a message. Taking nudes is a normal part of sexual expression today, but because of that and the intermeshing of that new norm and our technology, there is an ever-present risk of those images being used to harm. I hoped that by attempting to take the power out of this act by refusing to be shamed, other women could see they have the ability to do the same.
Take notes, internet trolls, and get a better -- and less abusive -- hobby.
On Tuesday night, Moyes called out the troll who published the nude photos and asked people to help her report him.
She then informed the troll she refuses to be "sex-shamed" by him "or anyone else," and he had no right whatsoever to share her photos.
Moyes won't allow her sexuality to be used as a weapon against her.
Sadly, Moyes is no stranger to dealing with internet trolls (especially of the male variety).
She writes about society, culture and gender for the Scottish newspaper The National, which happens to be a pro-Scottish independence publication.
This issue is at the forefront of Scottish politics right now, especially in the aftermath of Brexit.
The paper's position on this topic has led some people to target its writers, regardless of whether their articles pertain to Scottish independence.
This particular troll targeted Moyes because of something she wrote. But, as Moyes pointed out, "revenge porn" isn't the proper response to disagreeing with a newspaper column. In fact, it's really not a proper response to ANY situation.
The troll apparently posted her photos on the porn site Xhamster, but they have since been removed.
The troll's Twitter account no longer exists, which is likely linked to the fact people reported him. However, he also did something Moyes is now praising him for.
Surprisingly, the troll ultimately apologized to Moyes. She's encouraging other people engaging in online harassment to learn from his example.
In a situation like this, many people might not be as forgiving as Moyes, but she explained,
I asked my followers to leave him be because I understand that he's been subjected to the wrath of mob-justice. As someone who lives under the heavy weight of online harassment just for doing my job, it's not something I would wish on anyone – even someone who has behaved in this way. It was, I believe, an error of judgement and it seems this whole episode has caused him to reflect on that. Showing that level of humility and introspection alone is worth of applause. I'm hoping we can both move forward with a little more humanity in our dealings with others online.
Ultimately, Moyes hoped to show people it's important to "shout back" when they face abuse, but it's also possible to do so compassionately.
She's been very touched by the outpouring of support she's receiving from people in the wake of all this,
Through compassionate rather than aggressive zero-tolerance, I thought I might be able to demonstrate that such a breach doesn't have to result in a total shut down. When women are consistently silenced by misogynistic behavior, it's important to shout back, but in a way that upholds and elevates the value of our voices. That's what I tried to do. It's been hugely affirming to hear from other women who have been living under the pressure of this potential threat and hearing that they now feel less scared at the prospect of being outed.
In short, we should all speak out against hate and abuse, but we also shouldn't lose sight of who are in the process.
Compassionate defiance is possible, and it's clearly very effective.