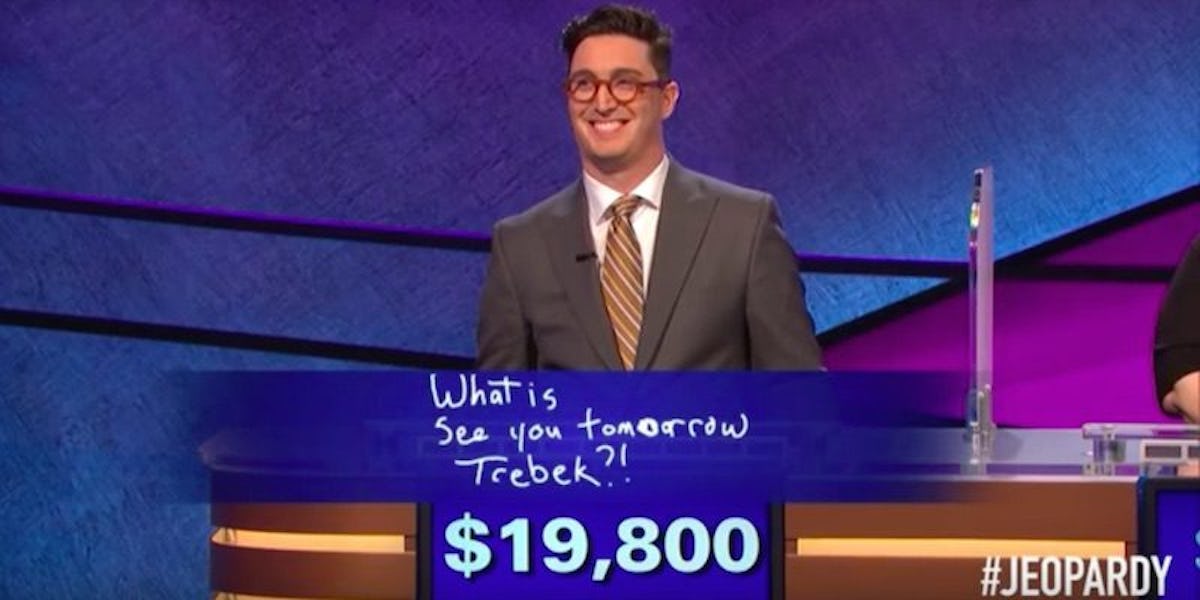 People Are Losing It Over This 'Jeopardy!' Contestant Trolling Alex Trebek
There tend to be two types of people in this world when it comes to being the best of the best.
On one hand, you have the people who believe in modesty. Then, on the other hand, you have Buzzy Cohen.
Now, if you're asking yourself, "Who is Buzzy Cohen?" the answer is quite simple: Who is a cocky Mr. Smarty Pants dividing America in half.
That's right. Buzzy is a "Jeopardy!" contestant who's been dominating "Jeopardy!" for seven days now, winning $133,402 since last Monday.
But, that's not all. This wise guy is also pretty darn entertaining, and some of his hilarious "Jeopardy!" answers might actually make this show bearable to watch without falling asleep.
Yep, since Buzzy clearly isn't worried about anyone touching his insane lead, he's been having some fun with the final rounds by trolling the show's host and giving him smartass answers like,
What is see you tomorrow, Trebek.
However, when you're on top, you're always going to have your fair share of haters. So while some people love the whole cute and clever nerdy thing Buzzy has going on, other people really can stand his overconfident demeanor.
In fact, one "Jeopardy!" fan hates him so much, he or she even made a Twitter account called "Screw Buzzy Cohen."
Check out the video for a closer look at this dude, and see what people are saying about him in the tweets below.
Lately, there's been a lot of buzz about the latest "Jeopardy!" champion...
Omg have any of you been watching Jeopardy?? Buzzy can get it — Princess of Kentucky (@sufjanshambles) May 25, 2016
...Buzzy Cohen.
There's a man on jeopardy named buzzy, Buzzy Cohen, I've never loved a chinless Jewish man more — Grace Cantore (@GraceC614) April 26, 2016
Cohen is a seven-day champ who's been making "Jeopardy!" way more interesting by trolling Alex Trebek with his final round answers.
This Buzzy Cohen guy on Jeopardy rules. pic.twitter.com/Hj6i25RRG1 — Tom Power (@tompowercbc) May 25, 2016
Some people seem to love this guy and totally dig his nerdy appearance...
looking past his dumb name Buzzy from jeopardy is HOT AF — ana tarshis (@ana_gabrielle21) May 24, 2016
...and this clever dude's cocky sense of humor.
Buzzy Cohen aka Austin nice Jewish boy who appears to be unmarried and is about to bring home all the $$ plz love me — Laney Cocoa Puffs (@Elenaperito) May 23, 2016
While other people seem to really, really hate Buzzy...
@Jeopardy Why does Buzzy Cohen look like an earthworm with a greasy lump of black Ramen noodles on his head? — Screw Buzzy Cohen (@ScrewBuzzyCohen) May 25, 2016
And can't stand his wise-ass attitude...
this Buzzy Douche on #Jeopardy is a annoying Waldo clone — Ace (@ManOfManners) May 25, 2016
...or those glasses that seem to be just as pretentious as he is.
"This contestant is the most pompous, ugly glasses turd face ever created." "What is Buzzy Cohen." #jeopardy — Seth Payne (@isell_Pro_Payne) May 24, 2016
Citations: Do You Want to Punch This Jeopardy Champion in the Face? (New York)