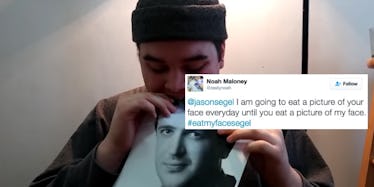 This Man Won't Stop Eating Photos Of Jason Segel Until He Returns The Favor
YouTube
We all have values and causes we believe strongly in, but the question is this: do we have what it takes to uphold them?
Can we set ourselves to a standard that inspires others to speak up for what they believe in?
Do we have the willpower to spend every day trying to get what we want in this world?
One dude has made a solemn vow... to eat a picture of actor Jason Segel's face every day.
God speed, Noah. God speed.
Noah Maloney, who has a YouTube channel called "Dog Shit," will only stop eating Jason Segel's face when the actor eats a picture of Noah's face in return.
Namely, the photo Noah has provided here.
This has been going on for seven days...
Just how far is this young man willing to go to get the "Forgetting Sarah Marshall" star to eat a piece of paper with his face on it?
Apparently, as day four shows us, he was willing to "Jason Segel" tattooed on his body.
You gotta admire Noah's dedication to the bit -- this whole picture-eating business started out as a joke between his friends. Now, since it has garnered so much attention, he's sticking to it.
Don't worry about him, however. He is Canadian. He said,
We have subsidized healthcare in Canada. My well-being is irrelevant to the situation.
If you're asking yourself, "But why??" He doesn't really have a solid reason.
He said,
He's a good actor. I liked 'The Muppets.' I cannot stress enough that this is not fueled by anything.
What started as just making stupid videos with his friends has turned into a real mission.
Noah promises to eat a photo a day until Jason Segel complies to his demands.
Segel, for Noah's health, please just eat a photo of his face. Please. His poops have got to be so weird by this point.
Citations: This guy will only stop eating photos of Jason Segel when Jason Segel eats a photo of him (AV Club)