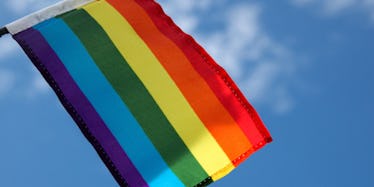 This Singer Transformed Ed Sheeran's "Shape Of You" Into The Most Beautiful Pride Anthem
Ever heard of Jade Oranika?
Well, get ready to be hearing plenty about her in no time.
The 20-year-old female rapper has gone viral on the internet after posting a Pride month-inspired remake of Ed Sheeran's hit song "Shape of You."
In case you haven't heard the original version of the song that's literally playing everywhere all the time, I'll give you a chance to refresh your memory:
OK, now that you've got Ed's version fresh in your head, allow me to BLOW YOUR FREAKING MIND with Jane Oranika's amazing rendition:
Yeah, it's pretty freaking dope.
Needless to say, people were freaking loving it.
If you weren't able to make out all of the words, I have them transcribed for you below:
Yo, let me tell you about pride The struggle to survive Living every day with your loving under fire People questioning the ways that you self identify Though who you choose to date isn't ever on your mind That's how people are so fascinated They passive, hatin' Y'all repeat the rhetoric just like a class was taken I bet we could settle it just if the paths were traded And you were born another way and told you had to hate it I'm doin' me
Y'all can disagree But people paid to talk And y'all do it for free But you can see me marchin' up and through the streets Look, I'm still gonna sing **sings** I will not be ashamed This is just who I am And who I was meant to be No mistakes Right here I stand I'm out on my own two feet No, you will not tear me down No, my heart will not be bound Singing loud Singing loud I'm proud I'm proud
Whether you're a member of the LGBTQ+ community or not, you can't help but be moved by this beautiful cover and its insanely inspiring message.
She inspires us all to not only fully embrace our truest selves, but to also give others the courage to do the same.
Also, not trying to brag but I also posted a remix to "Shape of You" on Twitter a while back...
Weird that mine didn't take off in quite the same way, amiright?
Dying to hear the full version? Oranika just posted it on soundcloud for us all to enjoy.
Prepare to play on repeat forever and ever.
I have a feeling we'll be seeing a lot more of the awesomely talented Jane Oranika in the future.