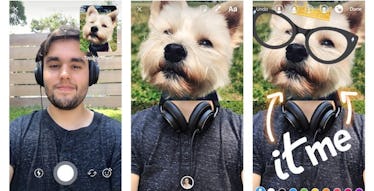 Instagram's Update Lets You DM With A Sticker Of Your Friends Post, So Have Fun
Instagram
Instagram is really trying to be your favorite social media app. They've done everything from creating the "Stories" feature to allowing DMs -- and now, there's a new update that promises to change the way you send DMs. The new Direct Message sticker update on Instagram was announced on Aug. 17, and it changes the way you DM by allowing users to reply using a photo or video.
I know you might be thinking, "Doesn't IG do this already?" Well, not quite. Instagram DMs allow you to send photos and videos via Instagram Direct, but this is the first time you can reply using a specific photo, video, or re-shared posts. To use the feature, all you have to do is hit "reply" to a DM, and a sticker will automatically show up. Then, you open the camera, take a selfie, and send it off. That's it.
This new feature also allows users to take split screen photos by tapping on the sticker. After you have the photo setup, you can make it your own by adding as many doodles and stickers as you'd like.
So how do you get your hands on this new feature? Well, it's available on Instagram's 10.34 update and is already available to download on iOS and Android.
It's no wonder millennials are spending so much time on the photo-sharing app. With all of the new features that Instagram rolls out on what seems to be a regular basis, Millennials spend anywhere from 24 to 32 minutes a day on the app, depending on their age.
That's a lot of time... but honestly, if IG continues with these awesome updates, they might just put Snapchat out of business. Let's see what cool new update Snap will come out with next because I doubt they'll stand idly by while IG owns them.