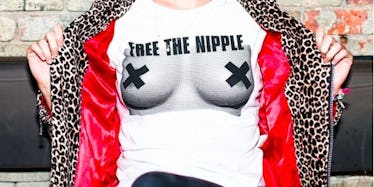 Instagram Finally Breaks Its Silence On The #FreeTheNipple Movement
After thousands of deleted posts, censored images and account shut-downs, Instagram has finally broken its silence on the #FreeTheNipple movement, particularly, why it is so intent on keeping female nipples out of users' feeds.
As it turns out, Instagram isn't the problem — Apple is.
To recap: Sometime last year, Instagram users — mainly female users — began to notice a worrying trend of censorship on images showing, in some form, the female nipple.
Some images, such as those depicting breastfeeding moms or mastectomy scars, were okay. But photos showing female breasts without context, or in a sexualized manner, were subject to censorship, either of the image itself or of the user who posted the image.
In response, female 'grammers began a movement now commonly known as #FreeTheNipple: a movement dedicated to promoting acceptance and appreciation of the female form.
Those who backed #FreeTheNipple contended Instagram should decrease its censorship of women's bodies and, instead, allow users to post the content they chose.
Throughout all of this, Instagram stayed radio silent, allowing users to express their beliefs without addressing the issue, or changing its policies in response.
And now we know why.
In a statement released last week, Instagram CEO Kevin Systrom revealed the bizarre and often nonsensical content restrictions are not Instagram's doing, but rather, Apple's.
As part of the contract with the Apple store, app developers must abide by Apple's guidelines, part of which states apps cannot feature nudity, unless access is restricted to adult users.
As such, Systrom explained,
[Instagram remains] committed to artistic freedom, [but] in order to scale effectively there are [some] tough calls [to make].
Instead of restricting Instagram to be available for only those users over 18, Instagram made an executive decision — and a smart one at that — to nix nudity in favor of free, open access.
So, there you have it.
Ball's in your court now, Apple. Let's get those boobies freed.
Citations: Instagrams CEO admitted the reason it censors some photos of female nipples from the app is to keep Apple happy (Business Insider), Instagram Finally Explains Why It Wont FreetheNipple (Cosmopolitan)